Renault Mégane E-Tech - Pricing & Specs Released
The upcoming Renault Megane E-Tech is finally bringing the French diamond into the all-electric family car sector, a long overdue arrival. But how much will it cost and what can drivers expect?
The Megane E-Tech has been designed and manufactured using the first purpose built electric vehicle platform from Renault - dubbed the CMF-EV. Historically, EVs that have utilised a dedicated EV platform, tend to be better balanced, roomier inside and use storage space more efficiently. How? Well, it allows manufacturers to maximise the surplus space that a battery pack provides, rather than EVs that use an existing ICE chassis with an electric powertrain stuffed into it.
It's a great start for the Megane, but let's look at specifics.
Exterior
Of course, beauty is in the eye of the beholder. But the Megane isn't a bad looking car. In fact, quite the opposite. The sloping roofline coupled with a set of large (optional) 20" alloys, can invoke glimpses of the Range Rover Evoque when squinting.
Facetious statements aside, Renault's designers have done a stellar job at creating an attractive crossover-style EV. There are some neat design choices too. The flush door handles glide out automatically as you approach the car, adding a premium feel à la Tesla. Full LED lighting on all four corners also bolster the Megane's appeal.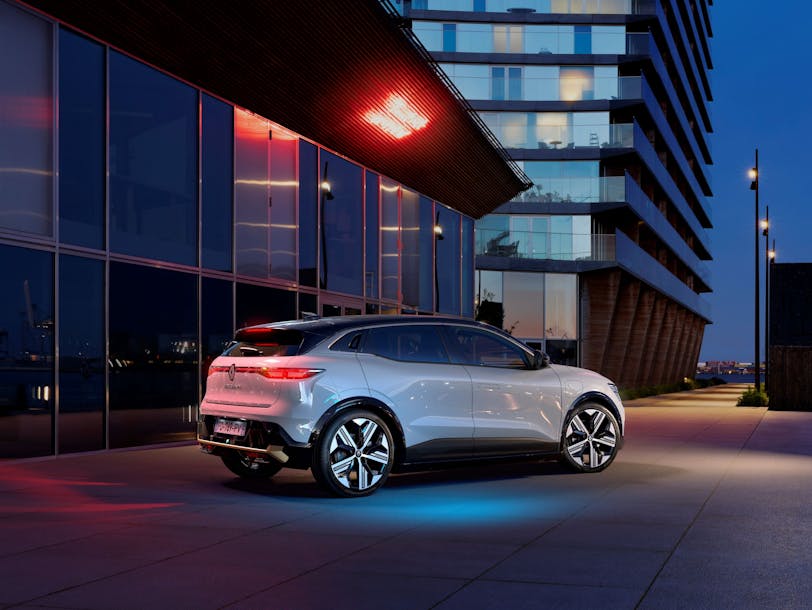 Interior
Renault is keen to highlight the eco-credentials of the interior. Many EVs are now running a green thread throughout their production, not just the powertrain. The Megane adds to that ever growing list. Recycled materials are effectively used to create "a welcoming and homely feel", with the seat upholstery in higher-end models 100% recycled.
But sustainable doesn't equate to sparse. There are two screens along the dash; a 12.3-inch digital instrument cluster and a 9-inch infotainment display.
Google integration is present throughout, inclusive of all of the apps one would expect: Maps, Assistant etc. However, a new addition is the Google Electric Route Planner. Renault says this innovative new tech takes the stress out of journeys by planning an optimal route, identifying compatible charging spots and updating the route according to current energy use. It should also warn drivers if an upcoming charge point is out-of-order. A very welcome feature.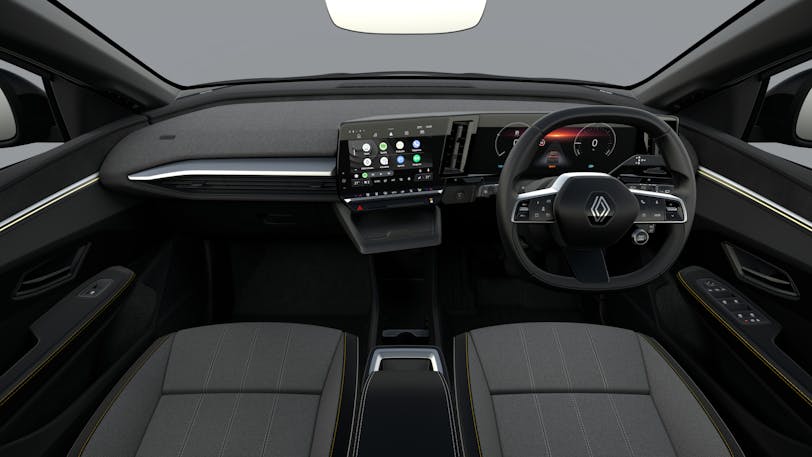 Powertrain, Range & Charging
The Renault Megane E-Tech will be shipped with a 160kW electric motor producing 300Nm of torque, 220hp and a 0-62mph time of 7.5s. Power will come from a 60kWh battery pack - the thinnest on the market. It's so dinky in fact, that it's 40% smaller than the pack used in the Renault Zoe.
The innovative battery grants the car a WLTP range of 280 miles from a single charge. However, as ever, we'd recommend a real world range of around 225 miles. That's still plenty impressive and more than enough for the average day of driving.
Once the battery is flat, charging is easy via the Type 2 connector. The Megane can accommodate rapid charging up to 130kW, which should see it regain 186 miles of (WLTP range) in around half an hour.
Trim Levels & Price
The Renault Megane E-Tech is currently offered in three variants: the Equilibre, Techno, and top-spec Launch Edition.
Highlights of the Equilibre model include heated steering wheel and front seats, 18" alloy wheels, reversing camera/assist and Android Auto/Apple CarPlay. Quality of life features such as cruise control and lane keep assist are also standard. Yours for an on-the-road price (OTR) of £35,995.
Up the spec to the mid-range Techno model and gain adaptive cruise control, 20" alloy wheels and fully adaptive LED headlights. A further suite of driver aides is included too, such as auto-wipers, dual-zone climate control, electric seats and an upgraded Arkamys audio system. The Techno model is £38,495 OTR.
Opt for the UK-exclusive Launch Edition and the Megane comes with 20" Enos alloy wheels, a high-end 9-speaker Harman Kardon audio-system and total-view 3D camera system. All these goodies up the OTR to £39,995.
All models are covered by standard 5-year manufacturing warranty and an 8-year battery warranty.