Skoda Enyaq iV vRS drifts for four and a half miles
Sliding into the record books, the Skoda Enyaq iV vRS creates history with an incredible ice drift.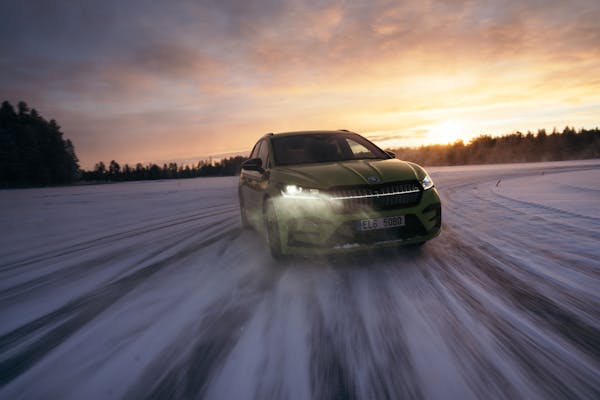 A Skoda Enyaq iV vRS SUV has set two world records for a continuous drift on ice for a distance of 4.568 miles.
The first record was for the 'Longest Continuous Vehicle Drift on Ice', with the second being for the 'Longest Continuous Vehicle Drift on Ice (electric car)'. The records have been verified by Guinness World Records.
The records were set on a circular track measuring 188.496 metres in circumference on a frozen Lake Stortjärnen, in Krokom, Sweden, on Thursday 19 January 2023 by motoring journalist Richard Meaden.
The car was kept in a continuous slide for more than 15 minutes, breaking the previous record of 3.872 miles, set in China in 2022.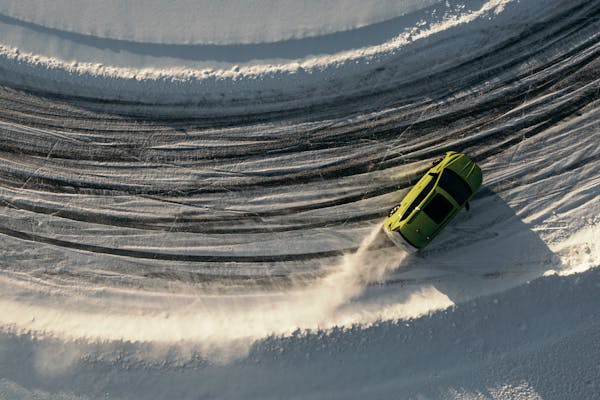 For the record-breaking run the Enyaq iV vRS SUV completed 39 'laps' of the drift circle over a time of 15 minutes and 58 seconds. The Enyaq iV's top speed was 30.25 mph, and the slowest speed was 19.66 mph.
The achievement took some practice – 18 hours of drifting over five days, with different tyre combinations. The standard production car used to complete the record was fitted with 20-inch alloy wheels. The 245/35-R20 Däckproffsen 'event tyres' on the front had 600 5mm studs, enabling greater traction and steering input on the frozen surface. The Nokian Hakkapelitta 255/45-R20 tyres fitted on the rear wheels had 300 2mm studs across the tyre surface. This proved to be the ideal combination for a controlled slide on the 40cm deep ice surface.
With an 82 kWh (77 kWh net) battery and two electric motors giving all-wheel drive, the Enyaq iV vRS SUV produces 299 PS and 460 Nm of torque, delivering a 0-62 mph time of 6.5 seconds.
Enyaq iV vRS models feature sports suspension that's 15mm lower at the front compared to the standard Enyaq iV, and 10mm lower at the rear.
The Enyaq iV vRS can be rapid charged at speeds of up to 135 kW, allowing an 80% charge to be achieved in 36 minutes.
The Skoda Enyaq iV vRS SUV is due to arrive with UK customers from early summer 2023.
Richard Meaden previously set a Land Speed Record for a 2.0-litre forced induction production car – a Skoda Octavia vRS – of 227mph on the Bonneville Salt Flats in America.
Our electric car lease special offers
£2,713.18 Initial rental (ex. VAT)
£3,255.81 Initial rental (inc. VAT)
48 Month term
5000 Annual mileage
Subject to status and conditions + arrangement fee
£301.

46
Business contract hire per month (ex. VAT)
£361.

76
Personal contract hire per month (inc. VAT)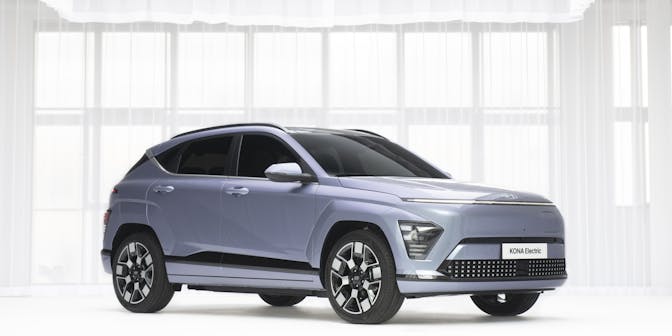 £1,951.79 Initial rental (ex. VAT)
£2,342.15 Initial rental (inc. VAT)
48 Month term
5000 Annual mileage
Subject to status and conditions + arrangement fee
£216.

87
Business contract hire per month (ex. VAT)
£260.

24
Personal contract hire per month (inc. VAT)
£2,728.44 Initial rental (ex. VAT)
£3,274.13 Initial rental (inc. VAT)
24 Month term
5000 Annual mileage
Subject to status and conditions + arrangement fee
£303.

16
Business contract hire per month (ex. VAT)
£363.

79
Personal contract hire per month (inc. VAT)