Škoda testing car-to-pedestrian communication grille
New innovative technology is being developed by Skoda as part of their Urban Mobility project, which aims to make the road safer for pedestrians by creating car-to-pedestrian communications through the adoption of LED radiator grille alerts.
Increasing numbers of electric cars are adopting illuminated front grilles, including the BMW i7 and Audi Q8 e-tron, and now the Škoda Enyaq iV's grille goes a step further, telling pedestrians when it's safe to cross the road.
The Enyaq iV's backlit 'Crystal Face' grille features programmable LEDs that can create unique animations.
 When the car approaches a pedestrian crossing, it can warn people waiting to cross that it has spotted them. It then stops and displays green arrows, for example, to tell them it's safe to cross. Once they've crossed, and the car is about to set off, it can display a different signal to warn pedestrians that the car is moving. In a worst-case scenario, a car approaching the crossing that is unable to stop can send out a clear signal to pedestrians not to cross.
The symbols currently being tested include green arrows and a green person, plus a warning triangle or a red triangle with a cross – widely recognizable symbols.
Technology like this could potentially help to reduce the number of overall pedestrian injuries on the road, with more than 16,000 occurring in 2021, according to annual figures released by the Department for Transport in the UK in 2022.
Changes to the Highway Code in 2022 advise that pedestrians have priority at zebra crossings as part of a wider change with a new hierarchy of road users. Drivers should also now give way to pedestrians crossing, or waiting to cross a road they are driving into or out of. Therefore more vulnerable road users could benefit from the communication between cars and pedestrians at these locations.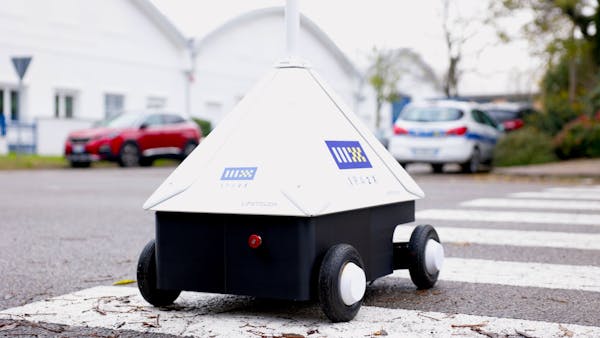 Also included as part of a wider trial is a robotic rover called IPA2X, which has been designed to help children, seniors, and people with disabilities cross the road safely. Experts from the Institute of Informatics, Robotics, and Cybernetics at the Czech Technical University in Prague (CIIRC), the Technical University of Munich, and Škoda have been working together to develop this smart assistant, alongside the signaling radiator grille.
The robot, which is over two meters tall, looks like a mobile traffic light that makes its way to the middle of a pedestrian crossing. Once it gets there, it will display a green light and pedestrians can cross. The robot is constantly monitoring its surroundings, so it can detect that a car is approaching the crossing. With sensors located two meters high, it's able to see over-parked cars. It then heads out into the road when it sees it's safe to do so.
The robot displays information for pedestrians and warnings for approaching cars – it shows approaching drivers a stop sign. It also sends a warning to the car itself, which is displayed as an animation on the infotainment display. Once the pedestrians have crossed the road, the robot goes back to the curb, the alert on the car's dashboard disappears, and the driver can continue on their way.
Our electric car lease special offers
£2,713.18 Initial rental (ex. VAT)
£3,255.81 Initial rental (inc. VAT)
48 Month term
5000 Annual mileage
Subject to status and conditions + arrangement fee
£301.

46
Business contract hire per month (ex. VAT)
£361.

76
Personal contract hire per month (inc. VAT)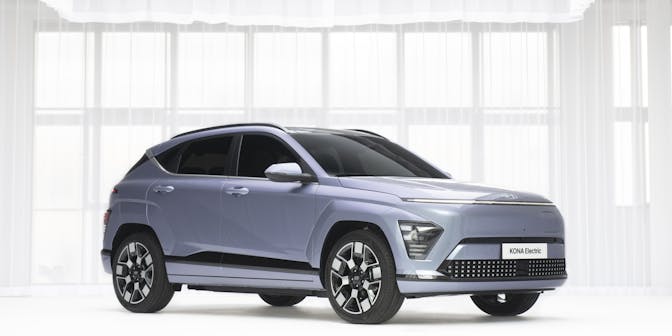 £1,951.79 Initial rental (ex. VAT)
£2,342.15 Initial rental (inc. VAT)
48 Month term
5000 Annual mileage
Subject to status and conditions + arrangement fee
£216.

87
Business contract hire per month (ex. VAT)
£260.

24
Personal contract hire per month (inc. VAT)
£2,728.44 Initial rental (ex. VAT)
£3,274.13 Initial rental (inc. VAT)
24 Month term
5000 Annual mileage
Subject to status and conditions + arrangement fee
£303.

16
Business contract hire per month (ex. VAT)
£363.

79
Personal contract hire per month (inc. VAT)