Tesla UK Supercharger network opened up to other EVs
Following trials in other European countries, Tesla has opened up selected charging sites to non-Tesla EVs
Tesla has opened up its UK Supercharger network to other EVs, although at the moment, only certain Supercharger locations are included. This follows a pilot carried out in Europe.
The connectors are CCS, which covers most EVs apart from Nissan LEAF and Nissan e-NV200 which have CHAdeMO connectors. Tesla Superchargers don't have a mechanism to pay by contactless bank card (a feature for rapid chargers that has been mandated by the UK government), so EV drivers will have to use the Tesla app to pay for charging, and to find the Non-Tesla Superchargers.
The cost of the electricity will be £0.60 (on average – rates vary by site), but drivers can choose to pay a monthly membership fee (£10.99 in the UK) in the app to access lower kWh pricing.
The UK public charging network has presented various challenges to EV drivers over the last ten years, including lack of sufficient chargers, poor reliability, and lack of contactless payment. During that time, if you were driving a Tesla, you would have few problems, due to the Supercharger network having lots of charging bays in each location, ultra-rapid charging, and being user-friendly.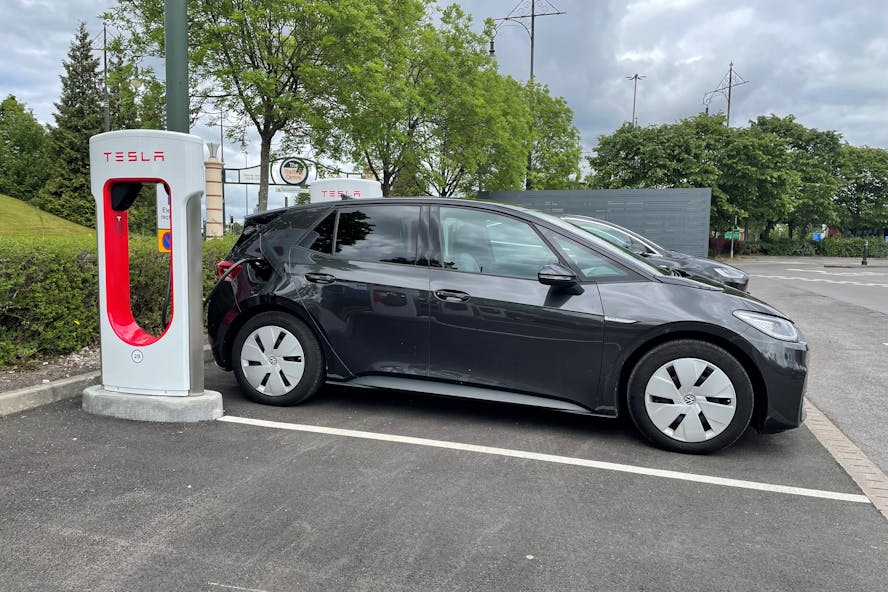 Over the last year, public charging has seen big improvements, in part due to GRIDSERVE taking over the old Ecotricity network at motorway service areas, but now there are more EVs, there are often cars queuing to use what are often just two chargers, while there are lots of spare Tesla Superchargers close by.
The UK pilot includes 15 stations and 158 individual Superchargers, making it the biggest fast-charging network in the country.
With this pilot expansion the Supercharger network has also become the biggest fast charging network (over 150 kW) in Europe.
As well as the UK, selected Supercharger stations are being opened to non-Tesla owners in Spain, Belgium, Sweden and Austria.  
Today, Tesla has more than 30,000 Superchargers worldwide.
Explore the Tesla electric car range
Looking to lease a Tesla? DriveElectric can help...