The Fisker Ocean: SUV Set to Rock the Boat
If you're waiting for the next big thing in the electric car world, then the Fisker Ocean may be the answer.
The Fisker Ocean has a number of interesting features such as a solar roof, the ability to simultaneously open all side and rear windows (and the roof) to give the feel of a convertible, and a touchscreen that you can view vertically or rotate horizontally to watch films in combination with surround sound.
The Fisker Ocean is an all-electric SUV with a driving range of up to 350 miles in Extreme spec, or 250 miles in the Sport spec – the latter being available from £34,990. Production is due to start in November 2022.
The Fisker Ocean's full-length SolarSky roof can use the sun to generate free energy to support the vehicle's battery-powered motor. When fully exposed to the sun, the Fisker Ocean Extreme's SolarSky can produce up to 1,500 miles per year, and under ideal conditions this may increase to beyond 2,000 miles.
The car has a Revolve rotating centre screen as an option; the 17.1-inch touchscreen can swivel from portrait Control Mode to landscape Hollywood Mode – a 16:9 widescreen format – which can be used to view films.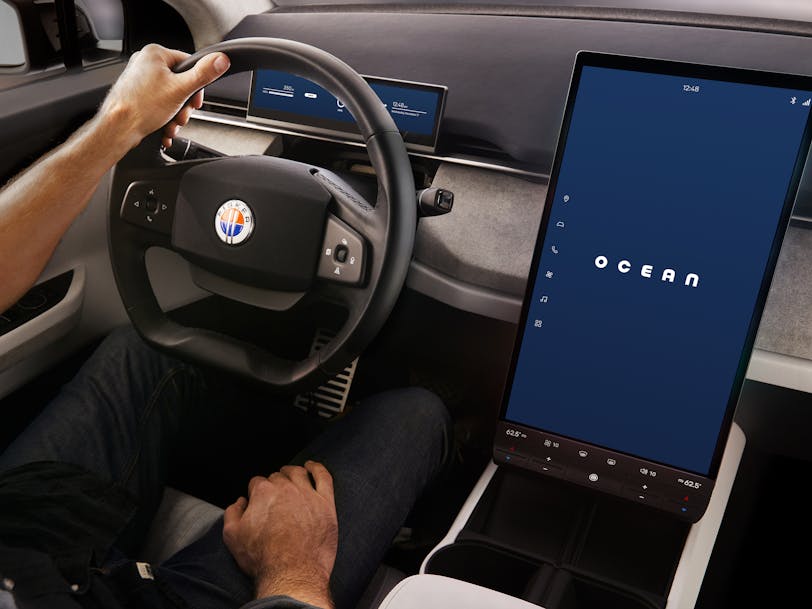 This can be used in combination with the Fisker HyperSound Audio System which delivers 360° sound thanks to its 500 watts of power, 16 speakers, and one of the largest 6 channel dashboard speaker arrays of its kind.
California Mode refers to the ability, at the touch of a button, to open eight windows at the same time: the front windows, both rear-seat windows, both rear 'Doggie' windows next to the D-pillar, and the Rear Lift Gate Window – as well as opening the SolarSky roof.
The Ocean features Smart Traction, which Fisker says makes the vehicle perform more like a sports car than an SUV. Smart Traction distributes torque to each wheel for optimal traction when cornering. This improves stability and traction on wet and icy roads as well as minimising energy loss and boosting efficiency.
The Fisker Ocean's PowerHouse capability supported by a bidirectional onboard charger allows the battery to be used as a temporary energy reserve to power a home for up to seven days.
The launch-edition Fisker Ocean One, with an estimated range of 390+ miles, will cost £59,900.
Our latest electric car lease offers...
£2,713.18 Initial rental (ex. VAT)
£3,255.81 Initial rental (inc. VAT)
48 Month term
5000 Annual mileage
Subject to status and conditions + arrangement fee
£301.

46
Business contract hire per month (ex. VAT)
£361.

76
Personal contract hire per month (inc. VAT)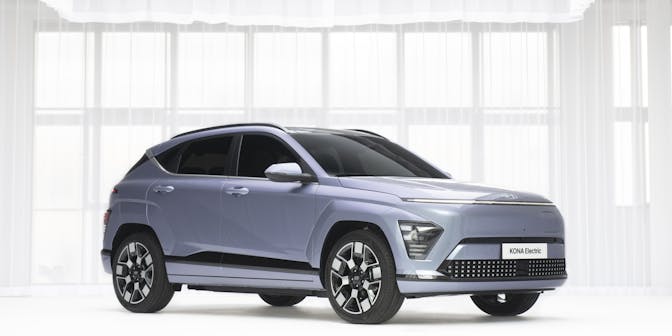 £2,067.67 Initial rental (ex. VAT)
£2,481.20 Initial rental (inc. VAT)
48 Month term
5000 Annual mileage
Subject to status and conditions + arrangement fee
£229.

74
Business contract hire per month (ex. VAT)
£275.

69
Personal contract hire per month (inc. VAT)
£2,728.44 Initial rental (ex. VAT)
£3,274.13 Initial rental (inc. VAT)
24 Month term
5000 Annual mileage
Subject to status and conditions + arrangement fee
£303.

16
Business contract hire per month (ex. VAT)
£363.

79
Personal contract hire per month (inc. VAT)