How much does it cost to charge an electric vehicle?
As well as the positive difference you can make to the environment by going electric, a big part of the attraction is the savings you can make on fuel. If you're wondering how much it is to charge an electric car, read on for more information and some handy tips to maximise your EV's potential.
How much does it cost to charge an electric car?
Here we'll look at the cost of charging at home, at work and on the go.
Over 90% of EV charging is done at home, as this is usually the most cost-effective way to do so. The average cost to charge electric car batteries from empty to full at home depends on your electricity tariff and the vehicle you own.
Whether you want to know the cost to charge a Tesla, a Hyundai or something else, all you need to do to work out how much a full charge is, is multiply the cost of electricity by the size of your car's battery. This is measured in kilowatt hours (kWh).
How to work out the cost of a full charge at home
To calculate the cost of a full charge at home, simply multiply how much you pay for electricity by the capacity of your car's battery.
You can use the following calculation:
Cost of full charge

0.34 x battery size = cost of full charge

based on the UK's average tariff of 34p per kW
Let's look at the example of a Mercedes EQC with an 80 kWh battery being charged at home on the average tariff of £0.34 per kW. The calculation would look like this:
The below table gives some examples of the cost of a full charge across various EVs based on the average cost of electricity at £0.34.
| Vehicle | Battery size | Full charged time | Cost of full charge | Real world range |
| --- | --- | --- | --- | --- |
| MG 4 EV | 51kWh | 9 hours 15 mins | £17.34 | 185 miles |
| Kia Niro EV | 64kWh | 10 hours 30 mins | £21.76 | 235 miles |
| Mercedes EQC | 80kWh | 11 hours 26 mins | £27.20 | 230 miles |
| Tesla Model S | 100kWh | 14 hours 17 mins | £34.00 | 315 miles |
There's been a recent explosion in the number of EV-specific energy tariffs, designed by energy companies to get electric car drivers on board. The Zap Map EV tariff tool can help you differentiate between costs and benefits, with major suppliers such as British Gas and Scottish Power offering renewable energy tariffs with off-peak electricity prices of less than 5p per kW.
If you want to know how to charge a Jaguar I-Pace, Nissan Leaf, a Mercedes EQC or anything else in the cheapest way possible, the answer is usually to plug it in overnight and set a timer on your charger (or via your car or your car's charging app) to ensure you take advantage of the off-peak rate. You don't need to worry about overcharging, as the charge point will turn off when your car battery is full.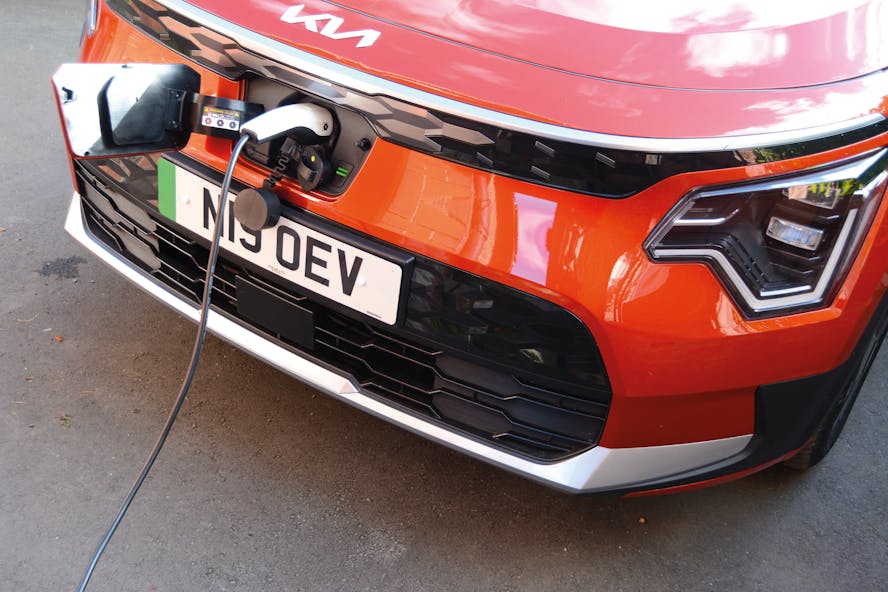 You may need to keep an eye on how much off-peak electricity your tariff allows each day however, with some providers offering longer periods of cheap energy than others. Businesses could also benefit from EV tariffs as more suppliers recognise the growing demand for electric cars as fleet vehicles.
Whether you're looking for an EV charge point at home or at work, there is a cost attached to installation. For homeowners the bad news is that the old grant scheme has now closed which did offset the cost by up to £350. However there is still a scheme for owner/occupiers of flats or people renting any type of home where the Government will cover up to £350 towards the purchase and installation of a home charger.
The cost of charging your electric car at work
The Workplace Charging Scheme, is an incentive which offers a grant of £500 to businesses towards each charge point up to a total of 20. If your company takes up the entire quota, this equals a government contribution of £10,000.
The cost of workplace charging for employees can depend on the policy from their employer. Some may opt for free charging while others may set a paid tariff. It depends on the employer, but it could look like the following:
Free charging offered as a staff perk. 

Time-based charging to encourage sharing of charging stations. 

Free employee charging for a set period of time followed by a fee. This could encourage employees to charge at work for a set time and then vacate spaces for the use of other employees.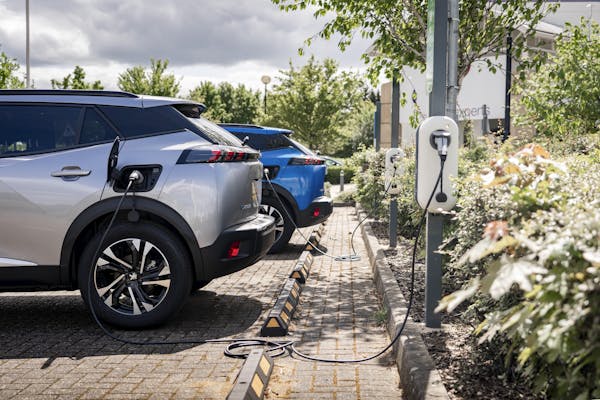 UK businesses are increasingly providing workplace charging to its staff, whether that's to keep an EV fleet powered up and on the move, or to provide employees the ability to top up their EVs while they work.
Cost of using public charging points
It's not always possible to charge up at home. Sometimes you may need to add some juice to your battery on a long journey, or you may be one of a growing number of people who decide to get an EV without the ability to home charge. Either way, the UK has a rapidly growing network of public charge points that offer fast, convenient charging.
As of March 2023, the average cost of charging up on the go using a rapid charger is around £0.73 per kW which should cost you around £22 for 30 minutes of charging. The exact tariff offered will of course depend on the operator, and you should always check before you charge up your car.
If you drive a Tesla, you'll benefit from The Tesla Supercharger Network which has charging points right across the UK which are either free or pay-as-you-go depending on your model of Tesla.
You can find lots more information on charging stations with our helpful guide, as well as some examples of how much it costs to charge up a selection of different vehicles.
Should you choose home charging or public charging?
The thing to remember with home charging versus public charge points is that there's a trade-off between cost and speed. Charging your EV at home is usually cheaper and slower, while charging stations offer rapid chargers which cost more to use for their convenience.
Read more about how to install an electric charger at home (insert link once live) and the cost of installing an electric charger at home with our handy guides. And if you want to speak to one of our experts about leasing an electric car with DriveElectric, get in touch or fill out our online form for a quick quote.
Our electric car lease special offers
£2,713.18 Initial rental (ex. VAT)
£3,255.81 Initial rental (inc. VAT)
48 Month term
5000 Annual mileage
Subject to status and conditions + arrangement fee
£301.

46
Business contract hire per month (ex. VAT)
£361.

76
Personal contract hire per month (inc. VAT)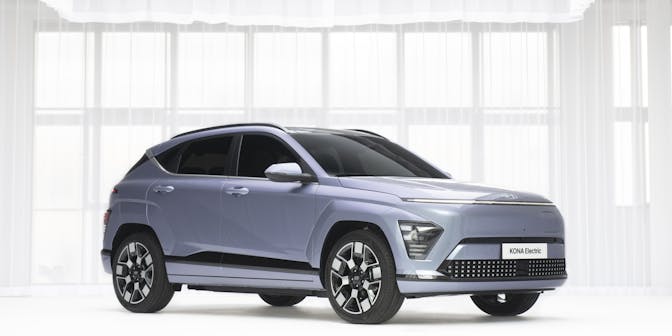 £1,951.79 Initial rental (ex. VAT)
£2,342.15 Initial rental (inc. VAT)
48 Month term
5000 Annual mileage
Subject to status and conditions + arrangement fee
£216.

87
Business contract hire per month (ex. VAT)
£260.

24
Personal contract hire per month (inc. VAT)
£2,728.44 Initial rental (ex. VAT)
£3,274.13 Initial rental (inc. VAT)
24 Month term
5000 Annual mileage
Subject to status and conditions + arrangement fee
£303.

16
Business contract hire per month (ex. VAT)
£363.

79
Personal contract hire per month (inc. VAT)