Citroen e-C4 review
Classic French design all wrapped up with a zero tailpipe emission powertrain - what's not to love?
Citroen e-C4 design & powertrain
The Citroen e-C4 electric car has a 50kWh lithium-ion battery and a 100kW (136hp) electric motor. Although the e-C4 has a slightly raised ride height, resulting in it sometimes being described as a 'crossover', it's basically just a family saloon with front-wheel drive.
Citroen has aimed to be individual with its design over the years, and the e-C4 succeeds in being unique with its styling. The interior styling doesn't have as much character as the exterior, but there's a decent amount of space including 380 litres in the boot, or 1,250 litres with the rear seats folded down. There's also good levels of storage space in the cabin, and under the boot floor for the charging cables.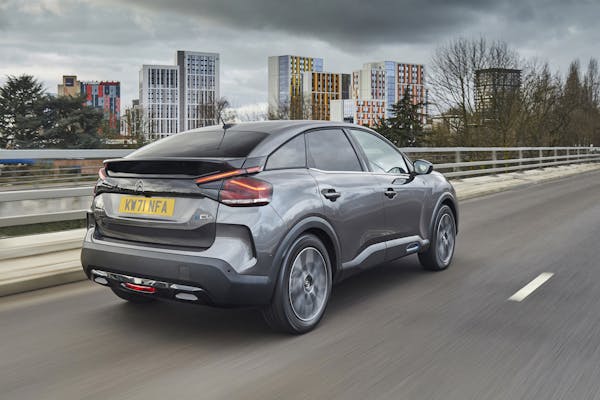 What is the Citroen e-C4 like to drive?
If comfortable ride quality is high on your priority list for a car, then the Citroen e-C4 could be the one for you. Citroen says that the e-C4 is designed to offer a smooth ride, and it generally achieves this unless the road surface is very poor.
Comfort can also be used to describe the handling (as opposed to tight) and the steering (as opposed to sharp). The handling is aided by the low centre of gravity thanks to the battery being in the floor, and by the kerb weight of 1,541kg, which is relatively light for an EV.
So the e-C4 is an easy car to live with overall, as long as you're not looking for sports car chassis dynamics. However performance is respectable thanks to the 300 Nm of torque available at all times from the electric motor, especially is Sport mode (there are also drive modes of Eco and Comfort). And like most electric cars, the e-C4 is responsive around town and refined on the motorway.
All that torque is delivered through the front wheels so you may need to watch out for wheelspin if accelerating from standstill out of a junction on a wet road.
Gone is any form of a traditional gear selector; instead there's a small switch that you pull or push to change between Drive and Reverse, along with a couple of buttons for 'P' and 'B' (for increased brake regeneration).
There's a clear image from the reversing camera on the touchscreen, and a useful overhead image is provided if you get close to a vehicle behind.
There are still physical heating and ventilation controls on the dashboard, which are easier to access compared to them being hidden in the touchscreen like they are in many new cars. However the touchscreen only has two shortcut buttons, one for home and one for vehicle, and you need to press these buttons to access further controls such as for satnav or media etc.
A head-up display is available for the Citroen e-C4, which comes in the form of a plastic panel rather than the information being projected directly onto the windscreen.
What is the vehicle range of the Citroen e-C4?
The Citroen e-C4 has an official combined WLTP electric driving range of 217 miles. You're likely to achieve around 155 miles in real-world driving, however, the range seems to go down more quickly than some other EVs at motorway speeds. Read more on electric car range in our handy guide.
The Citroen e-C4 can rapid charge at up to 100 kW, when a 0-80% charge will take just 30 minutes.
Using a 7.4kW home charger, a full charge should take seven and a half hours. You can also specify the e-C4 with the option to charge at 11 kW, which will deliver slightly faster charging when using a charge point with a three-phase electricity supply, such as at a workplace.
The Citroen e-C4 is easy and comfortable to drive, it has the normal responsive driving experience of an electric car, and it has a practical five-seat, five-door body style. In keeping with Citroen's aims, it's one of the more affordable EVs.
Its electric driving range of around 200 miles in the real-world should be sufficient for most journeys for the majority of drivers. And if you want a car with styling that has character, then the Citroen e-C4 electric car lease could be an ideal choice.
Choose your e-C4 car lease