Mercedes-Benz EQA review
One of Germany's 'big three', Mercedes-Benz' iconic crosshairs have now been targeted towards the EV market. The EQA 250 is their foray into the compact-SUV market.
Mercedes-Benz EQA summary
More affordable than its EQC sibling

Real world range of circa 220 miles

FWD and AWD options available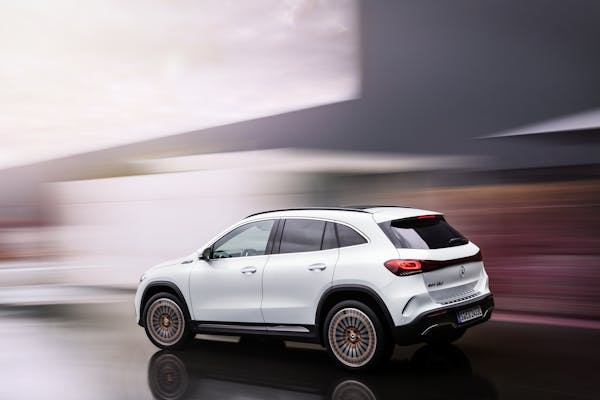 Mercedes-Benz EQA design & powertrain
The Mercedes-Benz EQA shares its body with the GLA.
It's essentially a compact SUV based on the A-Class. The interior is also similar, and whilst there's a good-sized boot of 340 litres, this is 95 litres smaller than the GLA.
The EQA 250 has a 66.5 kWh battery and a 190hp electric motor driving the front wheels, although all-wheel drive EQA models are also available.
The design is recognisably Mercedes-Benz and a safe bet for the auto-manufacturer, preferring to stay within established design principles.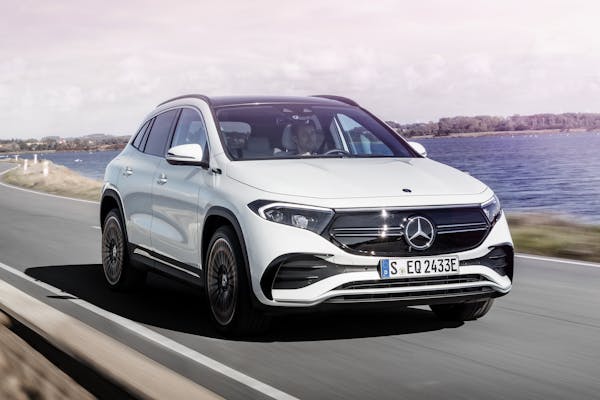 What is the EQA like to drive?
Because the Mercedes-Benz EQA is electric, it's quieter, more refined and has smoother acceleration than a petrol or a diesel GLA, so it's better to drive around town and on longer journeys.
Although the EQA is an SUV, and so the body is higher than the A-Class, the battery is positioned in the floor, which helps to minimise roll when cornering. The EQA weighs 2040kg, which is more than the petrol model, but ride quality is good on smooth roads.
There are three drive modes – Eco, Comfort and Sport – and you can also adjust the rate of regenerative braking – with five levels – using steering wheel-mounted paddles.
The Mercedes-Benz EQA 250 is front-wheel drive but there are also all-wheel drive models which offer more grip.
The interior of the EQA 250 is similar to that in other Mercedes models, which means a mixture of shiny buttons and the latest technology, clear satnav mapping on the large central screen, and the option to configure the large instrument display in various ways. There's also ambient interior lighting, which, in blue, seems very appropriate for an EV.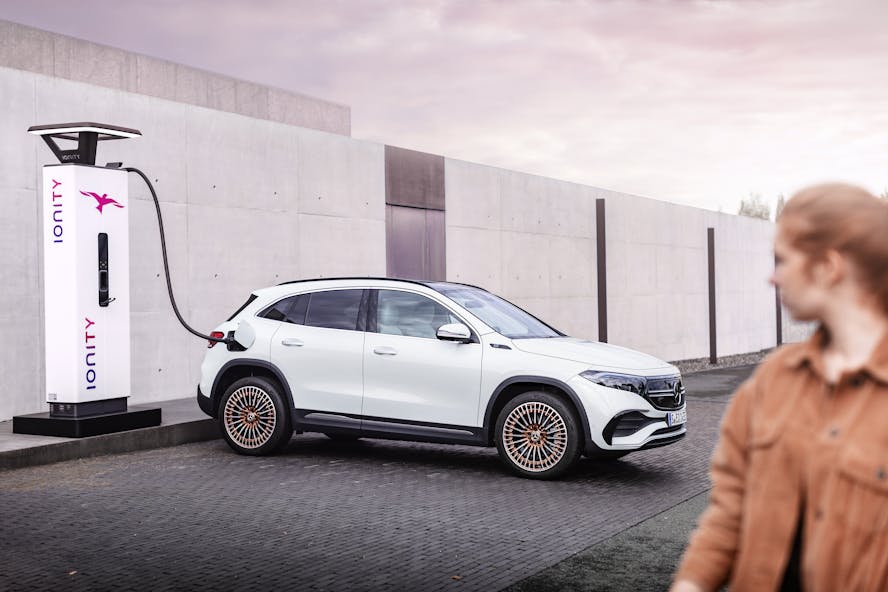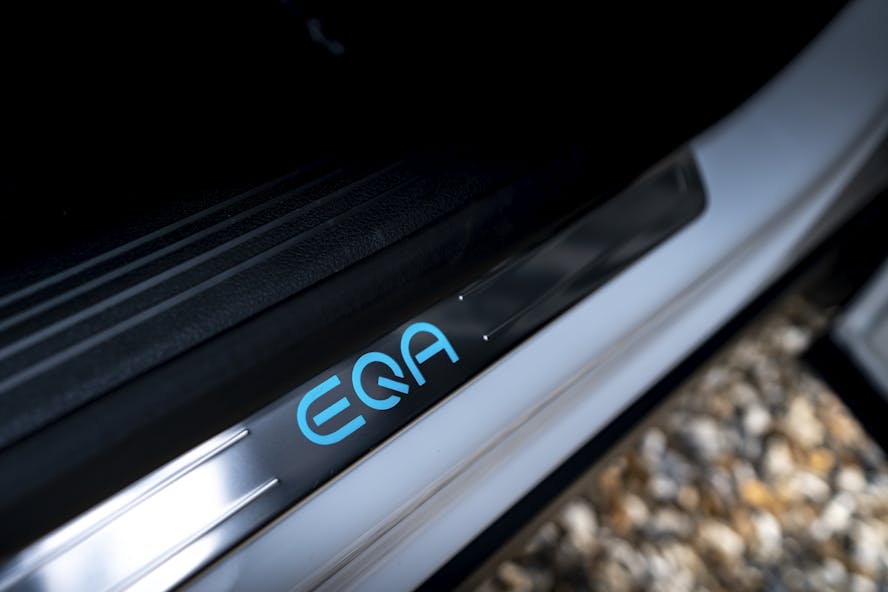 Mercedes-Benz EQA range and charging
The Mercedes-Benz EQA 250, with its 66.5 kWh battery, has an official WLTP electric driving range of 265 miles. However, our 'real world' testing found the figure of 220 miles to be a more realistic expectation.
The EQA can charge at a 100 kW (DC) public rapid charger, where a 10 to 80 per cent charge would take around 30 minutes.
It can also charge at 11 kW (AC) (which is likely to be found at a workplace using a three-phase electricity supply rather than at home in the UK), when a 10 to 100 per cent charge could be achieved in five hours and 45 minutes.
A three-year subscription to the Mercedes me Charge public charging service is available as standard.
Vehicles in the compact SUV segment are in-demand by car buyers, and the Mercedes-Benz EQA 250 offers another choice for those wanting an electric option. It has a practical body style and because it's all-electric, it's good to drive.
There's also a stylish and high-tech interior. However, it may be the Mercedes badge that provides the most compelling reason to lease the EQA 250.
Choose your EQA car lease