Volkswagen ID. Buzz
The Volkswagen ID. Buzz has retained its concept car looks and is therefore guaranteed to get people's heads turning – and with its all-electric powertrain, it's much better to drive, as well as being a lot more spacious, than the original 1950s Volkswagen Type 2 Bus…
Spacious, but a five-seater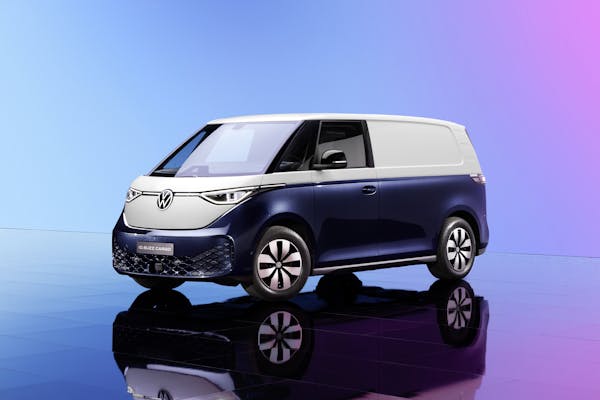 Volkswagen ID.Buzz design & powertrain
The Volkswagen ID. Buzz has a 77 kWh battery with a 204 PS electric motor driving the rear wheels. Although it shares the same platform as the Volkswagen ID.4, the ID. Buzz has the body style of a van, complete with sliding rear doors. That means lots of space inside, but rather than using this space to fit seven seats, Volkswagen has chosen to stick to five seats, which creates a huge 1,121-litre boot. The boot includes a 'multi-flex board' which provides a flat floor when the rear seats are folded and also results in a large space under the floor.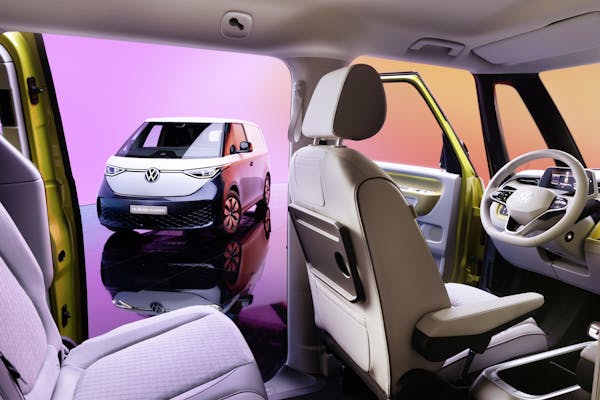 Driving Experience
As the Volkswagen ID. Buzz shares its powertrain with the ID.4, it also has the same instant torque and refinement. It's rear-wheel drive, so the handling is perfectly competent, with none of the wheelspin that you would get from a front-wheel drive EV. The ID. Buzz has more weight when cornering than a car, but the centre of gravity benefits from the battery being on the floor. Ride quality is very comfortable, even with optional large alloy wheels.
There are three main drive modes: Eco, Comfort and Sport, in addition to Individual. You can use the gear selector – which is located on the right-hand side stalk on the steering column – to choose 'B' for increased brake regeneration.
The infotainment will be familiar to anyone who has driven Volkswagen's other ID. models; virtually all car controls are on a large central touchscreen. There are four physical shortcut buttons below the screen for 'P Menu' (parking), 'Clima' (heating and ventilation), 'Assist' (driver assistance systems) and 'Mode' (driving modes). To access basic features on the screen such as navigation, radio/media and phone, you first have to press the home button on the right-hand side of the screen.
Charging the ID.Buzz
The Volkswagen ID. Buzz has a combined WLTP electric driving range of 255 miles. In real-world driving, you can expect a range of 200 – 220 miles.
The ID. Buzz can ultra-rapid charge up to 170 kW DC, delivering a 5% to 80% charge in 30 minutes. Using 11 kW 3-phase AC workplace charging, a 0-100% charge should take 7 hours and 30 minutes.
The ID. Buzz also has bidirectional charging functionality, allowing it to feed power back to a house or the grid.
The ID.Buzz price and model range
The Volkswagen ID. Buzz is available in two trim levels: ID. Buzz Life, from £58,915 including VAT, and ID. Buzz Style, from £63,715 including VAT. There's also the ID. Buzz Cargo van.
The Volkswagen ID. Buzz has retained its concept car looks which results in it having unique styling that sets it apart from most other vehicles on the road. Its body style offers lots of space, although there's a large boot rather than seven seats. Its electric powertrain, and comfortable ride quality, ensure that it's more like a car to drive than a van. One of the main issues with the ID. Buzz is its price, which will realistically start at around £60,000 for most models that roll out of the showroom – but many people will think that the price tag is deserved for such an iconic vehicle.
Latest electric car lease offers...
£2,713.18 Initial rental (ex. VAT)
£3,255.81 Initial rental (inc. VAT)
48 Month term
5000 Annual mileage
Subject to status and conditions + arrangement fee
£301.

46
Business contract hire per month (ex. VAT)
£361.

76
Personal contract hire per month (inc. VAT)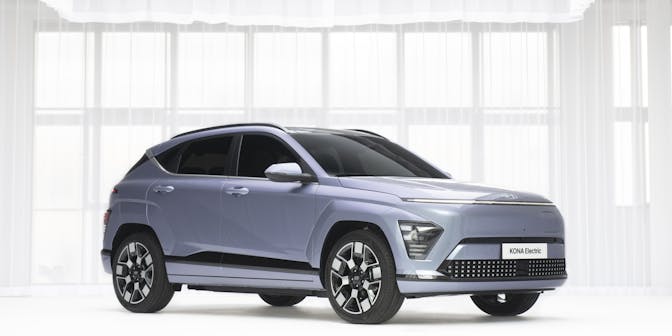 £2,067.67 Initial rental (ex. VAT)
£2,481.20 Initial rental (inc. VAT)
48 Month term
5000 Annual mileage
Subject to status and conditions + arrangement fee
£229.

74
Business contract hire per month (ex. VAT)
£275.

69
Personal contract hire per month (inc. VAT)
£2,728.44 Initial rental (ex. VAT)
£3,274.13 Initial rental (inc. VAT)
24 Month term
5000 Annual mileage
Subject to status and conditions + arrangement fee
£303.

16
Business contract hire per month (ex. VAT)
£363.

79
Personal contract hire per month (inc. VAT)