Electric cars buyers guide
Let's take a look at some of the key questions (and answers) when it comes to buying an electric car...
Are electric cars better for the environment?
In a word, yes. Treat anyone that says otherwise with a degree of scepticism... that isn't to say that in the whole life cycle of an electric vehicle it doesn't produce emissions. It does.
However, reputable study after reputable study has found that the environmental credentials of an electric vehicle are better than an internal combustion engine (ICE) vehicle within about two years of it being produced.
In really simple terms this means that initially during production of the electric vehicle more emissions and materials are required to produce the vehicle compared to an ICE vehicle but once they're out on the road and being driven an EV very quickly catches up and surpasses the ICE vehicle.
And when you look at the whole life of a vehicle the environmental credentials of the EV far surpass that of the ICE vehicle. According to research by Green NCAP an EV over the life of the vehicle emits around 50% of an equivalent ICE vehicle - and that is taking into account the current Grid mix of energy production, as our National Grid removes fossil fuels from electricity production this gap will expand further.
This is why the UK Government has announced the ban the sale of new petrol and diesel cars from 2035. Fully-electric vehicles produce zero tailpipe emissions and are far more efficient when it comes to using energy.
Significant investment is being made to increase the amount of wind and solar generation that goes into producing electricity and it takes less energy to produce renewable electricity (and it's a much cleaner process) than extracting and cracking crude oil to make petrol, while most new electric cars are packed with clever technology which makes then even more environmentally friendly.
How much are electric cars?
One of the big concerns we encounter when people are considering switching to an electric vehicle (EV), is that they think it's going to be much more expensive than a petrol or diesel car. This simply isn't the case.
Although grants for electric cars are no longer around the range and choice available in the UK is improving all the time, there's now all shapes and sizes of EVs out in the market - from compact city cars up to large 7-seat SUVs. So whatever you're in the market for, you'll find an electric car for you.
How far can an electric car travel?
Another key concern amongst people who are yet to switch to an electric car revolves around the range. However is another outdated worry.
What is range anxiety?
A nervous feeling that you won't reach your destination in your electric car on the charge you have available. Outdated phrase coined in the mid 2000s when electric car ranges were sub 50 miles, pops up still, does not affect electric car drivers beyond their first week behind the wheel.
The electric vehicles of today have vastly improved battery technology over their predecessors, allowing them to cover many more miles on a single charge. Battery sizes too have increased in size, providing an EV with more power, giving them a longer range.
Most new models offer a 'real-world' range of more than 150 miles, including affordable cars like the Volkswagen e-Up city car and the DS 3 Crossback E-Tense compact SUV.
Teslas are known for their exceptional range figures, with the Model S Long Range capable of covering around 345 miles on a single charge (Official WLTP range = 412 miles).
Many of us don't travel anywhere near that in a week, never mind a day.
How much does it cost to run an electric car?
One of the biggest benefits of running an electric car is the cost of charging compared to the price of petrol and diesel.
And while the cost of electricity has increased significantly, EV-specific home tariffs are still available in the UK market which means charging an average EV can cost around £5 or £6.
For more information about charging, head over to our guide.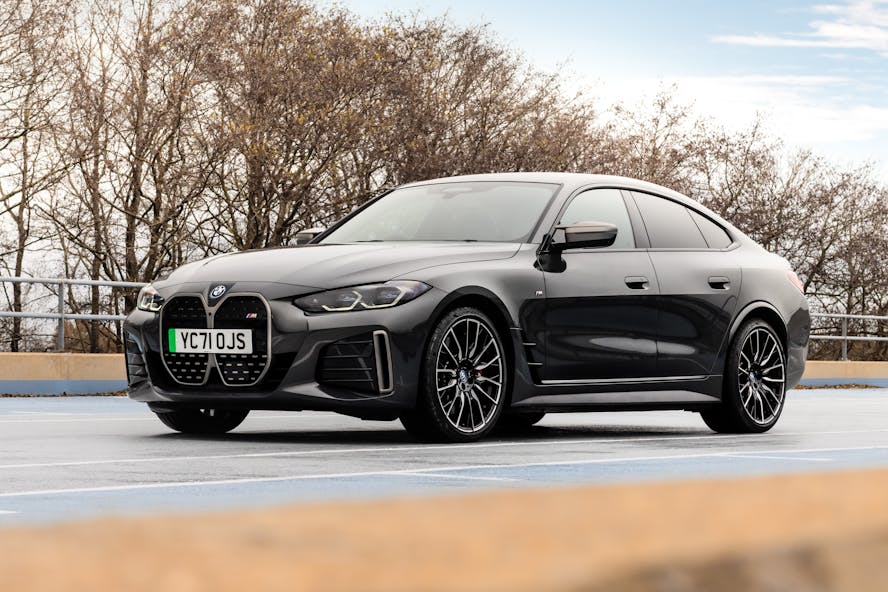 energy cost x battery size = charging cost
Let's look at the sporty BMW i4 as an example. The EV comes with a large 80 kWh battery, which has a real world range of 290 miles on a full charge.
If you're on an EV-specific electricity tariff of 7.5p per kWh then charging the BMW i4 will cost £6. That makes it about 2p per mile.
Significantly lower than the cost of petrol in a BMW 4 Series.
Charging on the public charging network will cost more however, we recommend that if you have off street parking then investing in a professionally installed home charging unit is the best way to charge your EV.
And not only is the cost of charging so low, but EVs are also cheaper to maintain thanks to the lack of moving parts in their batteries, compared to ICE cars. Plus, you can also make huge savings on the Congestion Charge and Ultra Low Emission Zone (ULEZ) charge if you live in London.
How long does it take to charge an electric car?
It all depends on the type of charger you plug in to and the maximum charging speed of your electric car (or electric van). There are different levels of charging, including slow, fast and rapid, with the latest EV chargers offering speeds of up to 350kW.
If your car is capable of charging at these high speeds you can add around 75 miles of range to your car in as little as five minutes. A great example of this is the Kia EV6, which can accept up to 233 kW of DC power (found at public ultra-rapid charging sites), this means its battery can go from 10% to 80% capacity in as little as 16 minutes
| Vehicle | Battery size | Real world range | Max charge speed | 50kW full charge time | 250kW full charge time |
| --- | --- | --- | --- | --- | --- |
| Kia e-Niro | 62 kWh | 230 miles | 77 kW | 63 mins | 44 mins |
| Volkswagen ID.3 | 58 kWH | 215 miles | 128 kW | 51 mins | 33 mins |
| Tesla Model 3 Long Range | 75 kWh | 285 miles | 190 kW | 69 mins | 34 mins |
Our electric car lease special offers
£2,713.18 Initial rental (ex. VAT)
£3,255.81 Initial rental (inc. VAT)
48 Month term
5000 Annual mileage
Subject to status and conditions + arrangement fee
£301.

46
Business contract hire per month (ex. VAT)
£361.

76
Personal contract hire per month (inc. VAT)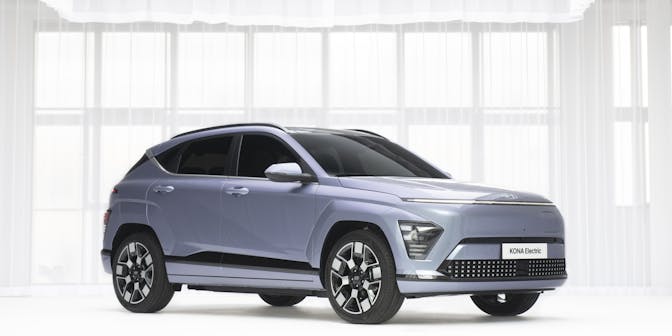 £1,951.79 Initial rental (ex. VAT)
£2,342.15 Initial rental (inc. VAT)
48 Month term
5000 Annual mileage
Subject to status and conditions + arrangement fee
£216.

87
Business contract hire per month (ex. VAT)
£260.

24
Personal contract hire per month (inc. VAT)
£2,728.44 Initial rental (ex. VAT)
£3,274.13 Initial rental (inc. VAT)
24 Month term
5000 Annual mileage
Subject to status and conditions + arrangement fee
£303.

16
Business contract hire per month (ex. VAT)
£363.

79
Personal contract hire per month (inc. VAT)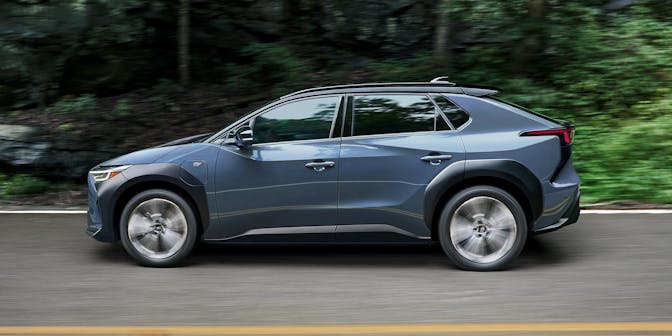 Should I buy or lease an electric car?
Leasing an electric car has become much cheaper in recent years, for several reasons. Firstly, there's greater competition between manufacturers, which has helped drive prices down. Secondly, there's a higher demand for second hand EVs. This has a positive influence on depreciation and residual values, which in turn has brought down leasing costs.
Leasing is usually the best way to keep driving a brand-new car every two or three years, simply handing your EV back when it's time to change. And as electric cars are progressing so quickly with huge strides made in terms of spec and tech, leasing an EV is the perfect way to stay ahead of the curve.
What are the best electric vehicles to lease?
There's never been a better choice of EVs when it comes to leasing. There are so many different options to suit all kinds of tastes and budgets, whether you're looking for something top end like the Tesla Model Y and Mercedes-Benz EQC, a performance EV like the new Ford Mustang Mach-e or a low cost lease option like the Volkswagen e-Up, with virtually all of the leading manufacturers entering the market over recent years there really is an electric car for everyone.
Why not take at look at some of our current electric car lease offers?