MG MG5 Estate Price & Specs Revealed
The brand new MG5 EV Estate plugs the estate-car-gap for many drivers, providing all the space and practicality of an SUV without the premium price-tag.
MG has positioned itself as one of the most affordable and best value entry points into the electric vehicle market. Buyers agree - the MG5 is currently the UK's 5th best-selling EV. Even so, the automaker's latest offering is a giant leap forward from its predecessor, upgrading on almost every aspect of the original MG5.
In line with the brand's no-nonsense approach, the MG5 is offered in two specifications: the SE edition and Trophy edition.
MG5 upgrades as standard
Overall, the updated MG5 has had a significant aesthetic overhaul with a wealth of substantial upgrades.
The most exciting of which is the introduction of Vehicle-to-Load (V2L) capacity. This technology allows owners to power devices directly from the electricity stored in the battery of the MG5. It's especially useful for off-the-grid trips like camping or emergency use.
The new MG5 also has a 500kg tow capacity and 10.25" infotainment screen.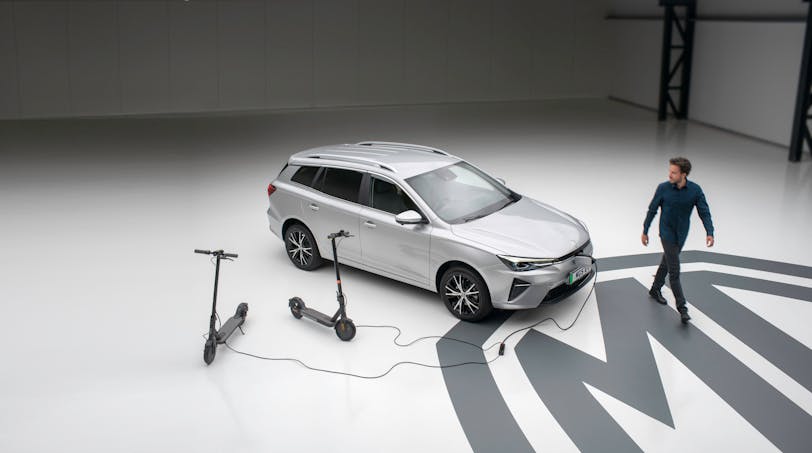 MG5 SE Spec Rundown
The entry-level edition still has plenty of equipment as standard, proving excellent value. MG Pilot comes fitted as standard, as well as automatic LED headlights and LED taillights. Quality of life improvements such as a rear-parking camera, adaptive cruise control and Apple CarPlay/Android Auto add a premium feel.
Newly designed 16" wheels add to the look.
The MG5 SE costs £30,995.
MG5 Trophy Spec Rundown
Opt for the top-spec Trophy trim and MG will upgrade those wheels to the exclusive 17" design. The level of standard equipment also increases significantly. An all-leather interior with electric seat adjustment and heated front seats enhances the interior and makes the cabin a nice place to sit on long journeys.
Additional upgrades make the driver's experience more pleasurable, too. Automatic climate control keeps the occupants at a perfect temperature regardless of the month, with rain sensing wipers and a 360° camera adding to the plethora of driver aides.
The MG5 Trophy is priced at £33,495.
The MG5 EV Estate will join the upcoming MG4 hatchback - bolstering an already attractive and affordable all-electric line-up from MG Motors. We'll have the latest and very best MG5 leasing deals as soon as it hits UK soil, until then, why not look at our top leasing deals below?
Meet the MG5 EV
Lease your MG5 EV estate from DriveElectric