Kia Niro EV Review
The Kia e-Niro is now known as the Kia Niro EV; the new model has gained exterior styling with more character than the last Niro, and the impressive electric driving range remains.
New, more characterful exterior styling
Compact yet practical body style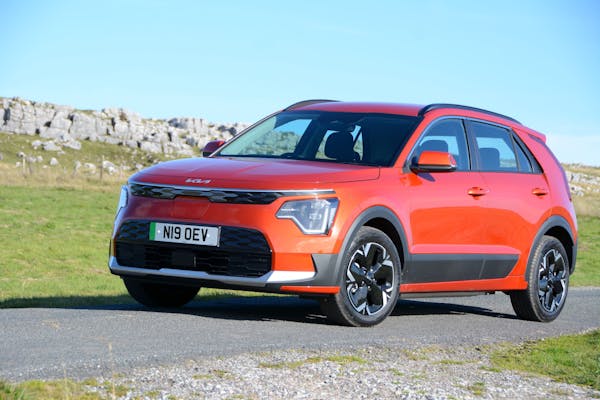 Kia Niro EV design & powertrain
The Kia Niro EV, as it is now known, has exterior styling that stands out more than the previous e-Niro model. The interior is also new, with a similar dashboard to that found in the Kia EV6.
Kia says that the Niro EV is a 'compact crossover utility vehicle (C-CUV)'. We'd say that it's a small family hatchback, with a slightly raised ride height. There's a 475-litre boot, and a 20-litre storage space under the bonnet, which is ideal for storing charging cables – although there's also space for cables under the boot floor.
Both the 64.8kWh li-ion polymer battery and the 201 bhp electric motor are unchanged from the previous e-Niro, as is the front-wheel drive chassis.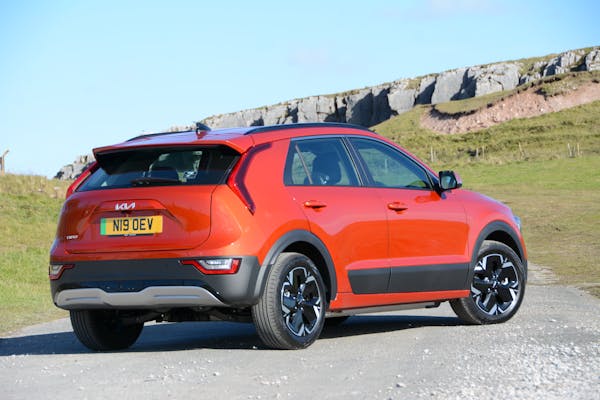 What is the Kia Niro EV like to drive?
 The Kia Niro EV has the smooth, refined, and quiet driving experience of virtually all EVs. With 201 bhp and 255 Nm of torque, there's good performance, which is even more responsive in Sport mode (there are also Eco, Comfort, and Snow modes). A button on the steering wheel makes it really easy to select drive modes (there's also a button on the steering wheel to switch off the lane departure warning system).
Kia says that the steering is more direct on this latest Niro, and we'd agree – combined with the car's compact dimensions, and relatively lightweight (1,739 kg) compared to some EVs, the latest Niro EV feels agile and fun to drive – more so than the previous generation model. However, ride quality is also comfortable.
The front-wheel drive layout of the Niro is retained, rather than moving to the rear-wheel drive, as the Kia EV6 has done.
The Niro EV is quiet at motorway speeds, with Kia saying that there is more sound insulation in the new model, including the windscreen having an acoustic film.
The gear selector is a rotary dial between the two front seats, and there are steering wheel-mounted paddles to change the level of brake regeneration. 
Note that you'll have to opt for '3' or '4' trim levels to get heated seats – something that is really useful in an EV to minimize cabin heating, and therefore maximize driving range.
The Kia Niro EV 64.8kWh has a combined WLTP electric driving range of 285 miles. This is likely to translate to a real-world range of 230-250 miles, although it should be possible to improve on this with careful driving.
The Niro EV has a maximum rapid charging rate of 82 kW. At a 100 kW rapid charger, it should take around 45 minutes to charge from 10% to 80%.
Using a 7.2 kW home wall box, a full charge should take 9 hours 25 minutes. If you can access 11 kW three-phase charging (typically found at a workplace in the UK) then a full charge could be achieved in 6 hours 20 minutes.
Kia Niro EV price and model range
There are three Kia Niro EV model grades: '2', '3' and '4'. The Kia Niro EV 64.8kWh '2' starts from £36,745, the Niro EV '3' starts from £37,340, and the '4' starts from £42,245.
The Kia Niro EV, now with more characterful styling, is a great all-rounder. It has a compact footprint on the outside, yet it's a practical size inside. Thanks to its size and its relative lightness compared to some EVs, along with its 201 bhp electric motor and its more direct steering than the last model, the Niro EV feels agile and fun to drive. The 285-mile electric driving range is good, especially relative to its price. The main decision is whether to go for the '2', '3' or '4' trim level.
More EV Reviews to get stuck into!
£2,843.84 Initial rental (ex. VAT)
£3,412.61 Initial rental (inc. VAT)
48 Month term
5000 Annual mileage
Offer expiry Monday, 18 December 2023
Subject to status and conditions + arrangement fee
£315.

98
Business contract hire per month (ex. VAT)
£379.

18
Personal contract hire per month (inc. VAT)
Special Offer
£2,993.22 Initial rental (ex. VAT)
£3,591.87 Initial rental (inc. VAT)
48 Month term
5000 Annual mileage
Offer expiry Monday, 18 December 2023
Subject to status and conditions + arrangement fee
£332.

58
Business contract hire per month (ex. VAT)
£399.

10
Personal contract hire per month (inc. VAT)
Most Popular
£3,196.77 Initial rental (ex. VAT)
£3,836.12 Initial rental (inc. VAT)
48 Month term
5000 Annual mileage
Offer expiry Monday, 18 December 2023
Subject to status and conditions + arrangement fee
£355.

20
Business contract hire per month (ex. VAT)
£426.

24
Personal contract hire per month (inc. VAT)
Special Offer
Choose your Niro EV car lease
£2,777.87 Initial rental (ex. VAT)
£3,333.44 Initial rental (inc. VAT)
48 Month term
5000 Annual mileage
Subject to status and conditions + arrangement fee
£308.

65
Business contract hire per month (ex. VAT)
£370.

38
Personal contract hire per month (inc. VAT)
£2,980.77 Initial rental (ex. VAT)
£3,576.92 Initial rental (inc. VAT)
48 Month term
5000 Annual mileage
Subject to status and conditions + arrangement fee
£331.

20
Business contract hire per month (ex. VAT)
£397.

44
Personal contract hire per month (inc. VAT)
£3,184.31 Initial rental (ex. VAT)
£3,821.17 Initial rental (inc. VAT)
48 Month term
5000 Annual mileage
Subject to status and conditions + arrangement fee
£353.

81
Business contract hire per month (ex. VAT)
£424.

58
Personal contract hire per month (inc. VAT)