Tesla Model 3 review
Henry talks you through all you need to know about this exciting electric car before you pick yours up from Tesla
The Tesla Model 3 walkthrough
Hi welcome to DriveElectric my name is Henry and today I'm going to be showing you around the car that's taking the EV (electric vehicle) world by storm at the moment the Tesla Model 3 now this particular vehicle is the long range or wheel drive model in metallic midnight silver. I'm going to be giving you a beginner's guide on a few of the basic features so if you follow me I'll show you around.
Getting in and getting set up
So step one how to get into the car, you have two methods and with the Model 3 you don't actually get a set of keys you get this little Tesla key card and you can also open it using the 'my Tesla' app on your smartphone. Now it's very important that before you take delivery of your new Model 3 that you have the app setup with your details including your email address, because it's essential for the daily running of the car – things like servicing you can book through the app as well as super charging, it's all debited through the 'my Tesla' app.
So to get in all you do is you just want your card over this little patch on the door and you'll see the mirrors fold out like so and then the car is unlocked and ready for you to get in so you just press the handle here and it will lower the window down and allow you to get in.
Tesla Model 3 Interior
As you can see you've got the full heated leather in the inside there which makes it great for conserving your range in the winter. When you need to warm up it's far better to heat the seats and your bottom rather than the whole cabin because it's easier on the battery life.
So, now we're inside you'll see that you've got a really simplistic stripped back interior it's very basic all of your controls are on this central screen there's not even an instrument cluster in front of your steering wheel where it would normally be with your speedo. etc, it's all displayed on this screen. Right here in the top right hand corner you'll have your speed and also your battery range.
On the steering wheel you'll see that you have identical buttons on both the left and the right on the right you have the button the access to your microphone which allows you to make and take calls whilst you're driving as well as command the Sat Nav and also your music. On the left you have the music controls themselves for altering the volume and skipping tracks. All your gears are located on this little stick where your windscreen wipers would normally be; you have 'P' for park on the end, and of course 'D' for drive, and 'R' for reverse as well.
Navigation
Now I'm going to show you through the navigation which you access by either pressing up here on the screen or you can press the right-hand button on your steering wheel and then speak into the microphone, and then all you have to say is "navigate to" and then your address and it will pre-populate the rest.
Let's try it out: "Navigate to Trafalgar Square", as you can see it's already planned my route with the next steps and it even shows you the charging locations along the way, and it also shows you roughly what battery percentage you'll have by the time you arrive. To get going you just put your foot on the brake pedal and then wave your key card just over the central console there right by the cup holders and now you can head off and get going.
Accessing the charging port
To access your charging port without actually getting out of the car you just press this small lightning bolt shape button here. You can hear that opens it at the back corner of the car and you can see it's also unlocked in this position here.
Right now you can see that we've got 275 miles of range in the vehicle which is also shown up here on this battery symbol and you can change the charging capacity of the car up and down by moving this slider. It's always best to try and keep it to 80 or 90% unless you're going on a really long trip and you need to squeeze out every single mile, the reason being is it improves the battery life by not charging you 100 percent every day.
So here we are at the back of the car with the charging flap that you can open from the centre console. At the top here from the semicircle design you can see that it takes a Type 2 charging connector which is rapidly emerging as the European standard for cables in electric cars. This particular one you'd use at home and then you've also got the CCS which is what you can use when you're out and about rapid charging. The Tesla supercharger network will of course cater to this plug type and that means when you're supercharged using a Tesla adapter you can charge your car from 0% to 100 in less than an hour making those long journeys hassle-free. That just about does it for charging, to close the flap once you're done charging you can either press the button on the centre console or press gently down on this flap here and that will close it up.
What's the boot space like?
To operate the boot it's very conventional you just press the small button on the lid just above the red plate and it'll open up. As you can see the Model 3 is a practical family car, you have got nice long load length in the back for all your shopping or sports bags and even an extra bit of load space underneath this flap here.
Any questions? Just ask the team
So that about does it for the Tesla Model 3 we do hope you enjoy your new car if you have any further questions please do give the team over at DriveElectric a call we'll be more than happy to help you.
£5,486 Initial rental (inc. VAT)
48 Month term
5000 Annual mileage
Subject to status and conditions + arrangement fee
£610
Personal contract hire per month (inc. VAT)
£4,572 Initial rental (ex. VAT)
48 Month term
5000 Annual mileage
Subject to status and conditions + arrangement fee
£508
Business contract hire per month (ex. VAT)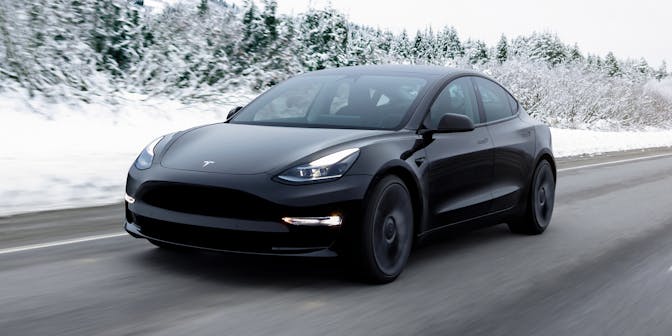 £5,692 Initial rental (inc. VAT)
48 Month term
5000 Annual mileage
Subject to status and conditions + arrangement fee
£632
Personal contract hire per month (inc. VAT)
£4,743 Initial rental (ex. VAT)
48 Month term
5000 Annual mileage
Subject to status and conditions + arrangement fee
£527
Business contract hire per month (ex. VAT)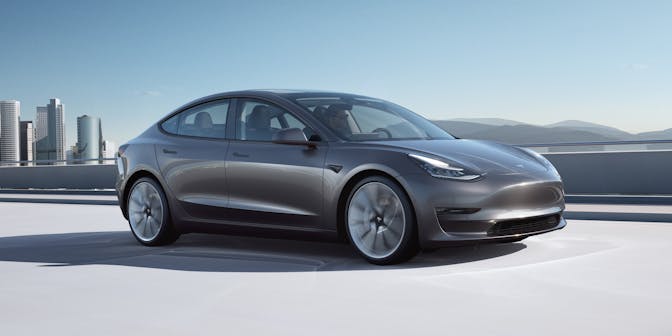 £4,806 Initial rental (inc. VAT)
48 Month term
5000 Annual mileage
Subject to status and conditions + arrangement fee
£534
Personal contract hire per month (inc. VAT)
£4,005 Initial rental (ex. VAT)
48 Month term
5000 Annual mileage
Subject to status and conditions + arrangement fee
£445
Business contract hire per month (ex. VAT)