Audi business lease deals
Coupe
Up to 295 miles range
£8,307.96 Initial rental (ex. VAT)
£9,969.56 Initial rental (inc. VAT)
48 Month term
5000 Annual mileage
Subject to status and conditions + arrangement fee
From
£923.

11
per month (ex. VAT)
From
£1,107.

73
per month (inc. VAT)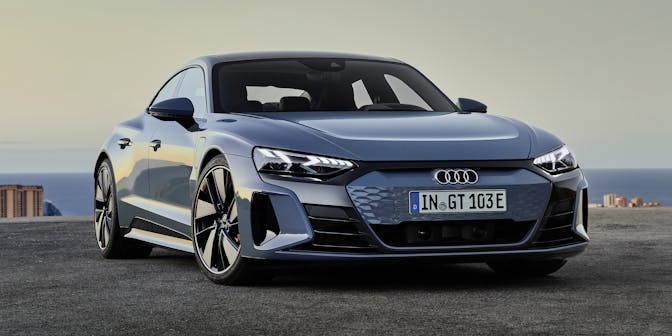 £3,809.41 Initial rental (ex. VAT)
£4,571.29 Initial rental (inc. VAT)
48 Month term
5000 Annual mileage
Subject to status and conditions + arrangement fee
From
£423.

27
per month (ex. VAT)
From
£507.

92
per month (inc. VAT)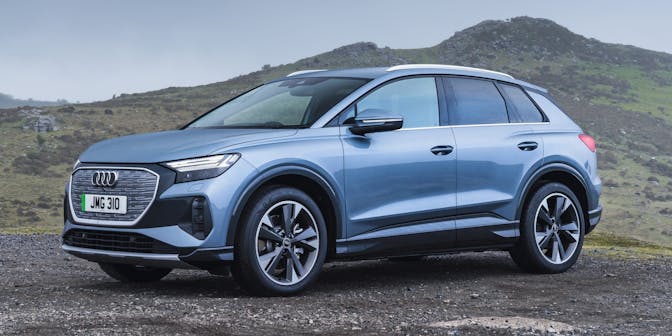 Coupe
Up to 300 miles range
£4,396.10 Initial rental (ex. VAT)
£5,275.32 Initial rental (inc. VAT)
48 Month term
5000 Annual mileage
Subject to status and conditions + arrangement fee
From
£488.

46
per month (ex. VAT)
From
£586.

15
per month (inc. VAT)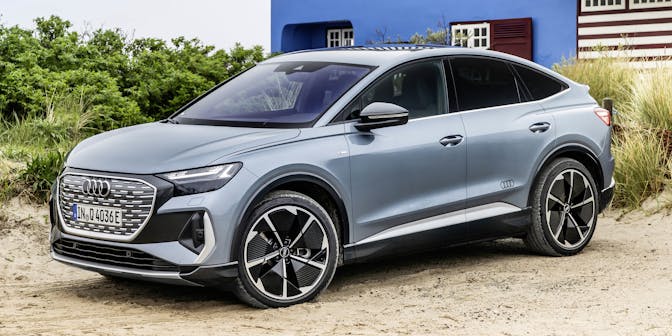 Audi has seriously stepped up its game in the electric car market over recent years, just like DriveElectric has stepped up for UK businesses since 1994. We've been focusing on EVs since 2008, and have helped many businesses across the country move towards a cleaner, greener future.
When you take out an Audi business lease on an electric vehicle, you'll join us on our journey towards a more sustainable future. The UK is all set to ban the sale of new petrol and diesel vehicles by 2030, so if you haven't already, now is the perfect time for your business to take the step into the world of electric motoring.
If you're looking for your next business lease, Audi has a wonderful selection of fully-electric models that cover several bases. The prestigious German manufacturer has a lofty reputation for producing premium cars built to a high standard, and this is something that certainly carries through to its electric range.
EVs have become more and more appealing to businesses as they bring plenty of benefits. Not only will you reduce your company's carbon footprint by going with electric cars that produce zero tailpipe emissions, but your reputation will also be enhanced by your improved eco credentials.
Naturally, the cost is also a key consideration, and this is another area where electric vehicles perform strongly. EVs are significantly cheaper to run than petrol and diesel vehicles. Fuel costs are of course greatly reduced, but service and maintenance are also typically around 30% cheaper with electric cars due to the mechanics of a battery compared to a combustion engine.
There are savings to make on things like National Insurance and benefit in kind (BIK) tax too. When you have a fully-electric Audi business lease, the company car tax in 2022/23 is only 2%. This is 14% for plug-in hybrids and rises to 28% for petrol cars that produce CO2 emissions of over 119g/km. For diesel vehicles above 116g/km it's a massive 32%. You could also save over £5,000 on ULEZ and congestion charges if your Audi company car lease is in London.
One of the biggest concerns we're often met with from fleet managers looking to go electric is about range. This is a thing of the past though. Audi's EVs are capable of a minimum of around 250 miles on a single charge. This is the range you get with the e-tron, while the e-tron GT can cover nearly 300 miles and the Q4 Sportback e-tron nearly 330 miles.
Audi business lease deals
If you're looking to lease an Audi EV, DriveElectric has you covered for everything you need from start to finish. Whether you know which of our Audi business lease deals you want to go for with your next company car or you'd like some advice on which model will suit you best, we're also here to help with questions on things like contract duration and mileage. We can also assist you with your tax position when you take out an Audi business lease.
UK businesses are preferring leasing more than ever, thanks to the simple, risk-free process. There's no obligation to buy the car at the end of your contract - just hand it back and take out a new lease on the latest model. You don't have to worry about things like residual values or finding the money for a lump sum at the end of your lease, while we can also help you with a short-term solution if there's a wait for your car to be delivered.
Benefits of Audi business leasing
Simple and risk-free

Simply choose the length of your Audi business lease along with your mileage and deposit, then hand back the car with no further obligation when your contract finishes.

Easy to budget

In addition to road tax and a full manufacturer warranty, you can also choose a service and maintenance package for your Audi business lease to further help with budgeting.

Great for reputation

The reputation of your business will be enhanced when you have a fleet of environmentally friendly electric vehicles that produce zero tailpipe emissions.
Get in touch with us today to discuss securing an Audi electric business lease for your company. You can give us a call to discuss our latest offers, or you can fill in a quick form to get an online quote right now.