Flagship Group demonstrates the benefits of Flexihire, converting an electric van trial to a lease
Read how DriveElectric worked with Flagship Group to identify where and how to insert the first electric van into its fleet, initially starting with a short term FlexiHire agreement but soon converting into a long term contract hire.
Low commitment FlexiHire electric van converted into long-term contract hire

Significant fuel cost savings compared to diesel

Cleaner and quieter vehicle for urban use

Part of Flagship Group's commitment to CSR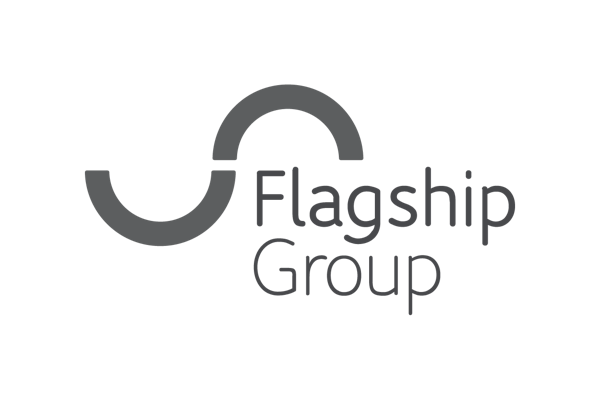 Flagship Group
Norwich-based Flagship Group builds, sells, lets, improves and maintains homes with the aim of solving the housing crisis in the East of England. Sustainability is a key priority for the business, which has the aim of being carbon neutral by 2030. 
Flagship's Neighbourhood Team has a fleet of 20 vans which are used for various tasks including moving items such as furniture or waste. The organisation as a whole runs a fleet of 270 cars that aims to be carbon neutral by 2027, and a repairs fleet of 350 vans.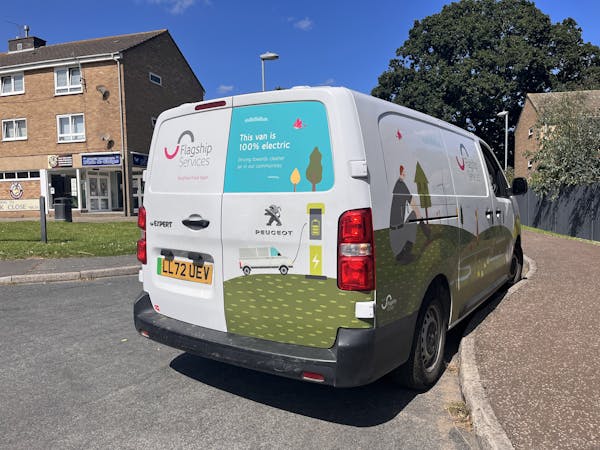 The Problem
Flagship Group's diesel vans produce emissions that have a negative impact on local air quality and climate change, as well as being noisy, and diesel fuel is expensive. 
One of the Neighbourhood Team's drivers, Lisa Bielby, was keen to trial an electric van, but wasn't sure how to do this.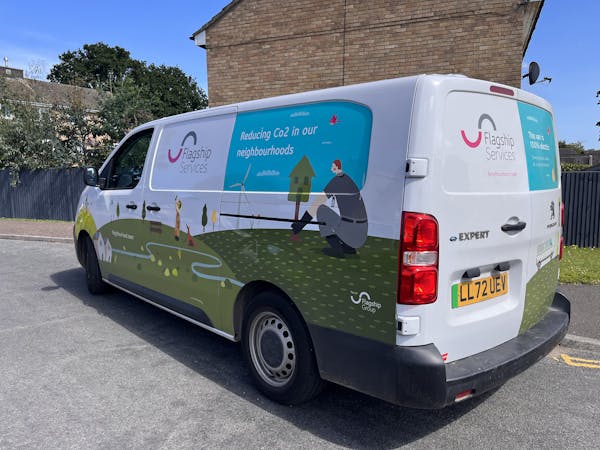 The Solution
DriveElectric was able to provide a FlexiHire electric van to Flagship Group, allowing the organisation to try out an electric van to see how it performs in a real-life workplace setting, without any long-term commitment.
The electric van was so successful that Flagship Group has converted the Flexihire trial to a long-term contract hire on a Peugeot e-Expert long wheelbase 100 kW electric van. By offering this option, DriveElectric allows organisations to enjoy the low risk of Flexihire and then benefit from the lower contract hire prices without having to swap the vehicle. 
Lisa continues: "The van livery promotes that it's electric, which has prompted some of our tenants to ask me what an electric van is like to drive; I obviously respond with praise!" 
Joe McNeill, Neighbourhood Services Manager at Flagship Group, adds "I'm delighted with the positive benefits of adopting an EV into the fleet, not only as a cost-saving to the business, but also around corporate social responsibility (CSR) and serving the community with a cleaner, quieter vehicle in built-up neighbourhoods. The van is an excellent way to help communicate our stance on environmental issues." 
Andrew Fordham, Operations Manager - Payroll at Flagship Group, says that since first using an electric van the cost to charge has been £749 for 13,251 miles (it costs approximately £4 to provide a range of around 100 miles if using an electricity tariff for EVs offering lower rates overnight at home). This compares to £2,901 for fuel costs for an equivalent diesel van, resulting in a £2,152 saving on running costs. In addition to the financial savings on fuel costs, Andrew says that the transition to an electric van has been painless from an operational point of view.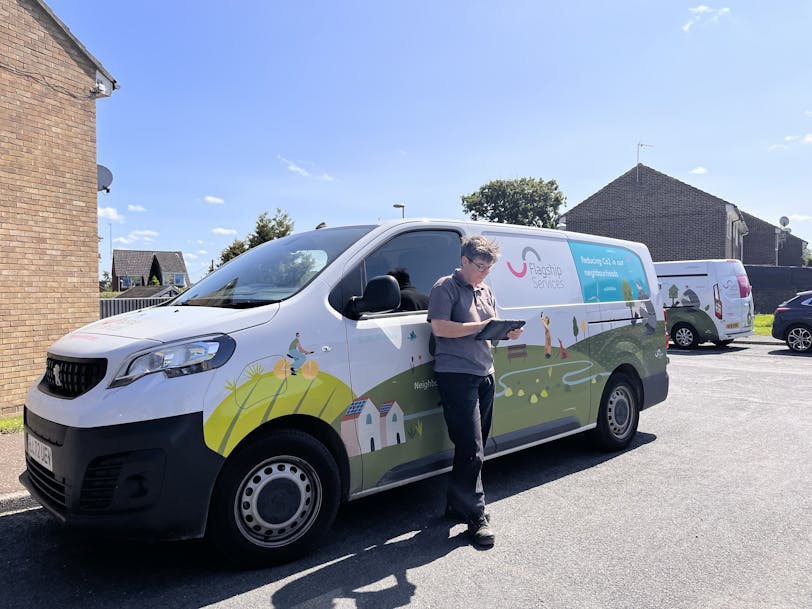 Based on experience of the electric van so far, and the projected cost savings if more vans are electric, Flagship Group will be expanding its fleet with more EVs. There's not a big difference in lease costs between the diesel and electric vans, and the savings on running costs in just six months can be used to fund the installation of chargepoints. 
Mike Potter, Managing Director of DriveElectric, says "Flagship Group's experience of trying out an electric van – and then converting the Flexihire trial to a lease – is an excellent example of how EVs can be perfectly suited for day-to-day tasks in many organisations.
The van is fit for purpose in terms of size, its range is more than enough, the driving experience is better, the running costs are much cheaper, and there's not much difference in the leasing costs compared to a diesel van. And of course, with no tailpipe emissions, an electric van doesn't contribute to air pollution or climate change. We look forward to seeing the rest of Flagship Group's fleet make the transition to electric." 
Affordable, low commitment access to electric vans and cars, made to flex with your business
If you don't want to make a long term, multi-year commitment to electric vehicles, or if you are looking to rapidly increase the capacity of your EV fleet then our FlexiHire solution is for you.
More DriveElectric case studies