The best new electric vans coming in 2023 (and beyond!)
Ready for the rush of new electric vans and light commercials hitting the UK market?
On the hunt for a new electric van or pickup that could save you a fortune on running costs? Then keep reading DriveElectric's guide to the best electric vans coming in 2023 and beyond...
Why choose an electric van? Well, with fuel costs rising steadily, charging an electric van at home could save you a fortune on fueling up with petrol or diesel, plus electric vans are exempt from paying expensive tariffs like the London Congestion charge and ULEZ.
Electric vans also tend to be easier and more comfortable to drive thanks to their silent-running, relatively powerful electric motors and single gears. Even range is less of an issue because most vans on this list have a fast-charging capability, which means you can add almost a full charge in less than an hour.
On this list, you'll find electric vans of all shapes and sizes – from the familiar face of the Ford E-Transit Custom to the tiny Citroen AMI Cargo microvan, radical Radar Auto RD6 pickup and latest-generation Mercedes-Benz eSprinter we have a van for everything. So keep reading as we guide you through all the best vans coming in late 2022 and beyond. 
BYD ETP3 (mid 2023)
The BYD ETP3 electric van's UK launch has been on the cards since 2020 but the coronavirus pandemic means the van is now expected in the middle of 2023 – following the UK launch of the brand. You can expect the BYD ETP3 to offer excellent value when compared to European rivals such as the Ford E-Transit Custom. The BYD can carry a payload of up to 780kg and has a 3.5 cubic meter capacity, making the most of that capacity should be easy thanks to sliding doors on either side and excellent access through the rear. In town, the BYD's automatic gearbox makes it relaxing to drive and you can expect its 134hp engine to offer plenty of get-up-and-go when hauling heavy loads. Using its regenerative brakes, the BYD can eke out a range of up to 170 miles between charges. Charging the relatively small 45kWh battery from 10-100% takes as little as 30 minutes using a public fast charger. 
Citroen AMI Cargo (early 2023)
While it might not look like it, the tiny Citroen AMI is indeed a van. With a range of fewer than 50 miles and a top speed of just 28mph, the AMI isn't designed for long-distance jobs but it could be ideal if you need to transport small loads across cities. There, the AMI can slice through traffic like a surgeon wielding a scalpel, it has a tighter turning circle than a London Taxi and at 2400mm long – nearly three centimetres shorter than a Smart ForTwo city car – it is a dream to park. The downside of this manoeuvrability? The AMI's minute 400-litre load bay, which is smaller than the boot of most family cars and takes up the space where you'd usually find a passenger seat – making this van a strict single seater.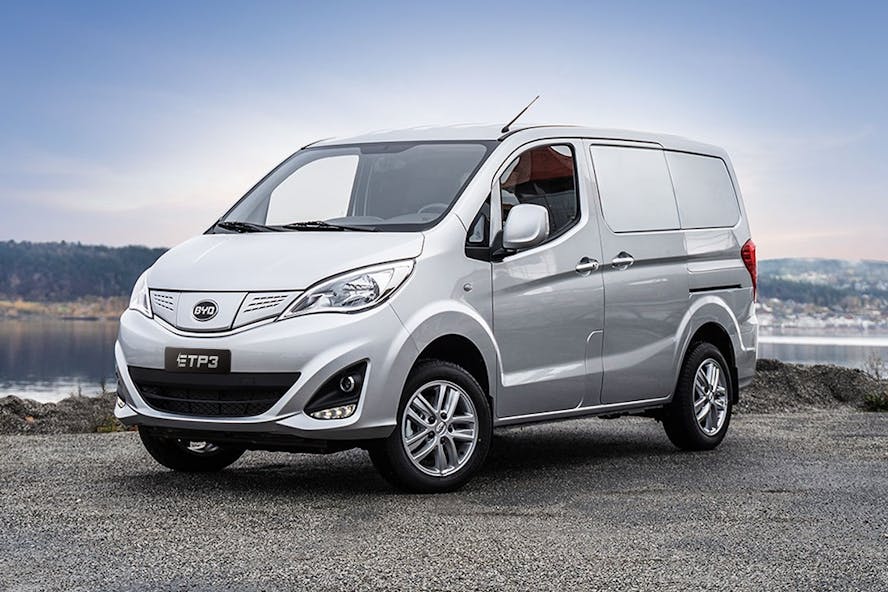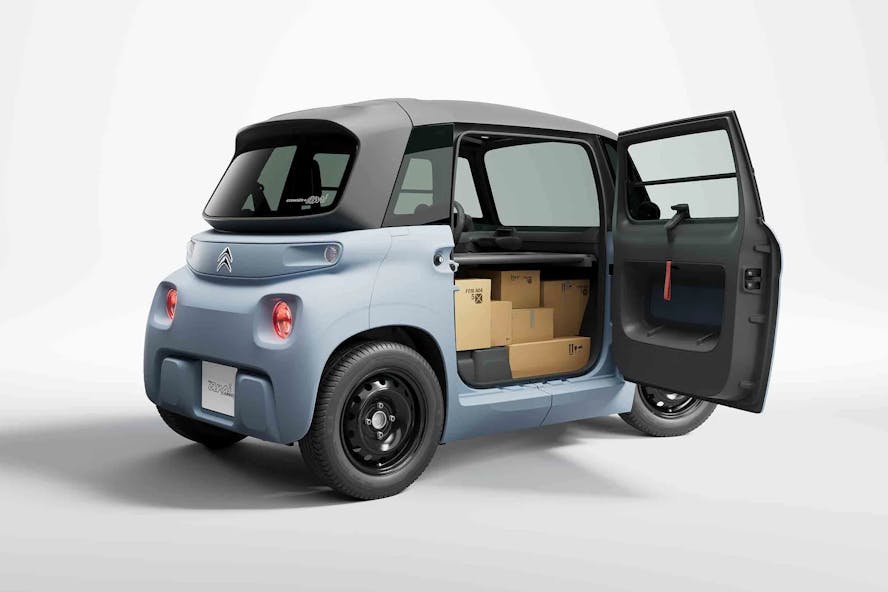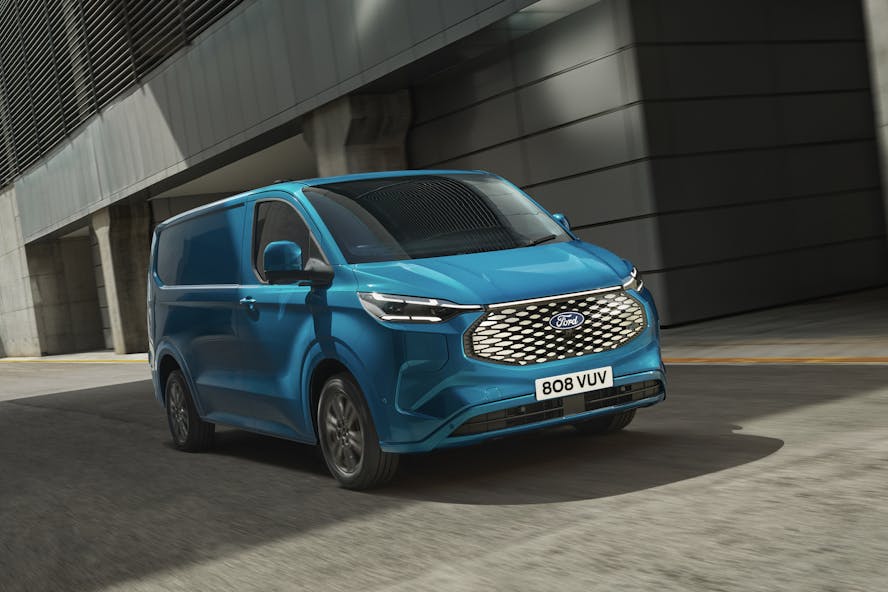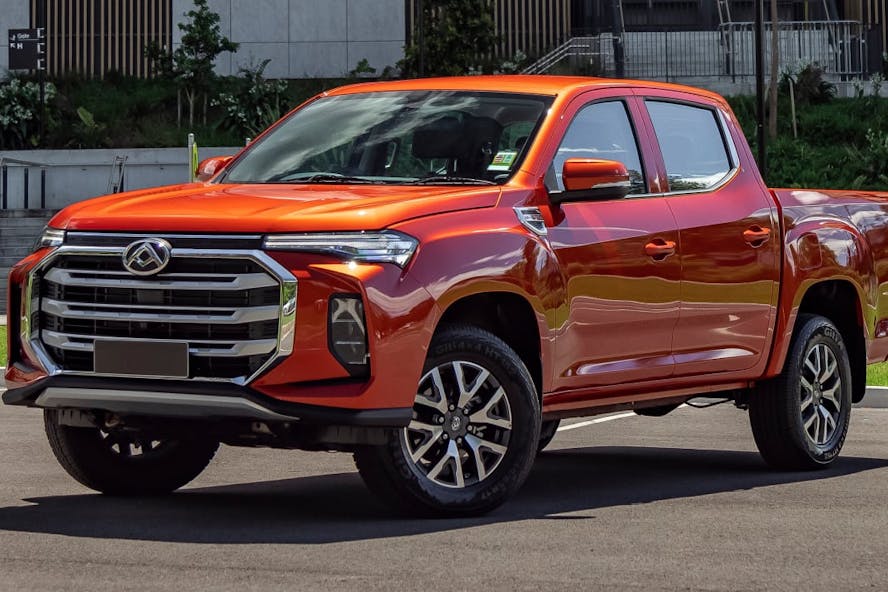 Ford E-Transit Custom (early 2024)
Think of a popular UK van and your first image will undoubtedly be the Ford Transit – and now there's a new electric version on the way called the E-Transit Custom. It'll go into production next year with first deliveries expected in 2024. You can expect the E-Transit Custom to be up to almost any job you care to throw at it thanks to having a load capacity of up to nine cubic meters, an 1100kg payload and an impressive 2000kg towing capacity. The E-Transit features a 75kWh battery that gives you a range of more than 235 miles (WLTP range figure) and the van's 125kWh charging speeds mean you can recharge the battery from 15-85% in around 40 minutes. You get a choice of two electric motors with either 133 or 214hp, both will offer plenty of instant power to make the Transit feel grunty off the line. Perhaps the best bit of the E-Transit is its passenger space, which is crammed full of storage spaces – including a large lidded cubby on the dashboard that can swallow a laptop.
Maxus T90EV (early 2023)
Maxus is a Chinese builder of commercial vehicles and the T90EV is its new electric pickup truck. Under the pickup's conventional-looking body, you'll find an 88.5kWh battery that gives a range of up to 220 miles (WLTP figure). Charging the battery from 20-80% takes 45 minutes using a fast, DC public charger, and power comes from a 204hp electric motor mounted at the rear. It gives the Maxus a decent turn of pace, while also allowing it to haul a payload of up to 1000kg. The T90EV looks pricey next to a conventional petrol or diesel pickup, but Maxus has attempted to redress the balance by loading it with standard equipment. A 10.25-inch infotainment screen, electrically adjustable seats, air conditioning, rear parking sensors, a reversing camera and smart-looking 17-inch alloy wheels all come as standard.
Mercedes-Benz eCitan (late 2022)
The Mercedes-Benz eCitan could be the perfect van for city rounds, given that it's based on the already-excellent standard Citan. The eCitan is powered by a torquey 134hp electric motor that drives the front wheels making. It feels nippy off the line and a top speed of 80mph means intercity trips needn't be ruled out. The eCitan features driving modes that allow you to adjust the sensitivity of the throttle and the lightness of the steering. Plus, the van's regenerative brakes offer three levels of force, meaning it is possible to drive the eCitan using one pedal. You'll get a maximum range of 170 miles (WLTP figure) and charging the battery from 10-80% takes about 45 minutes using a 75kW charger. Up front, the eCitan feels posher than your average van with a floating infotainment screen and turbine-style air vents that wouldn't look out of place in one of the company's cosseting saloons. You'll be able to specify the eCitan in a range of configurations, offering a maximum load capacity of 2.9 cubic meters. 
Mercedes-Benz eSprinter (mid 2023)
The current Mercedes-Benz eSprinter has been on sale for only two years, but the speed at which EV technology is improving means a new model is just around the corner. It'll be underpinned by the company's Electric Versatility Platform, which splits an EV's electrical components into three modules and swaps the current model's front-wheel drive for rear-wheel drive. That makes it easier to package and opens up the possibility to offer a variety of body shapes from long and short-wheel-base models to dropside pickups and ambulances – it will be a far cry from the one-model range currently available. You'll get three battery sizes to choose from and you can expect the new eSprinter's maximum range to eclipse the 95 miles the current model gets on a charge. Mercedes van interiors tend to be some of the plushest in the business so expect the new eSprinter to have a large infotainment screen complete with the company's MBUX operating system, voice activation and a handy reversing camera. 
Nissan Townstar electric (late 2022)
The new Nissan Townstar is on sale now with first deliveries expected early next year – it's based on the same platform that's underneath the Mercedes-Benz eCitan. As a result, the Nissan comes with a 44kWh battery that gives it a range of up to 183 miles. Charging the battery from 0-80% takes as little as 40 minutes using a fast DC public charger. Power comes from a 122hp electric motor that gives the Nissan surging performance off the line, while regenerative brakes – which activate automatically when you take your foot off the accelerator – mean you can drive using one pedal – that and the quiet electric motor should make the Townster relaxing to drive. But it's still a proper workhorse. The Townstar comes in short and long-wheelbase configurations, offering a maximum capacity of 4.3 cubic meters, while the option to specify sliding doors on both sides means it is easy to make full use of the room on offer. 
Radar Auto RD6 (late 2023)
You've probably never heard of Radar Auto but don't be put off, it's a new electric brand from Geely – the Chinese company that also owns Volvo, Polestar and Lotus – and this, the RD6 pickup truck, is its inaugural model. With an all-new brand comes a new way of thinking so as well as getting the regular truck bed (payload and capacity not yet confirmed), you get an extra boot under the bonnet that'll be handy if you want to keep your luggage away from the mucky loads you've got in the back. Exact specifications for the RD6 have yet to be confirmed but you will be able to choose from two and four-wheel drive versions, and you can expect the truck to come with a battery of up to 78kWh – for a range of around 200 miles. Fast charging capabilities mean you'll be able to get the battery from 10-80% in around 30 minutes.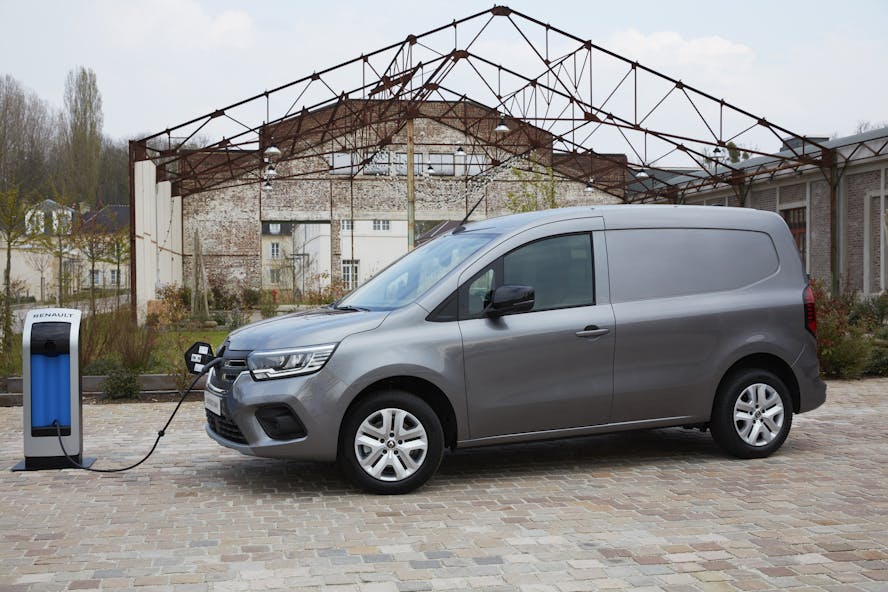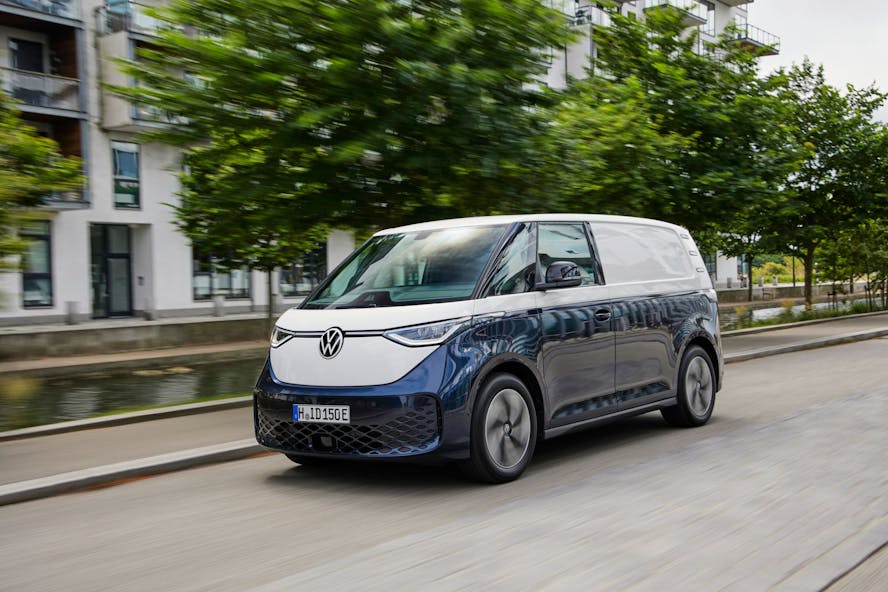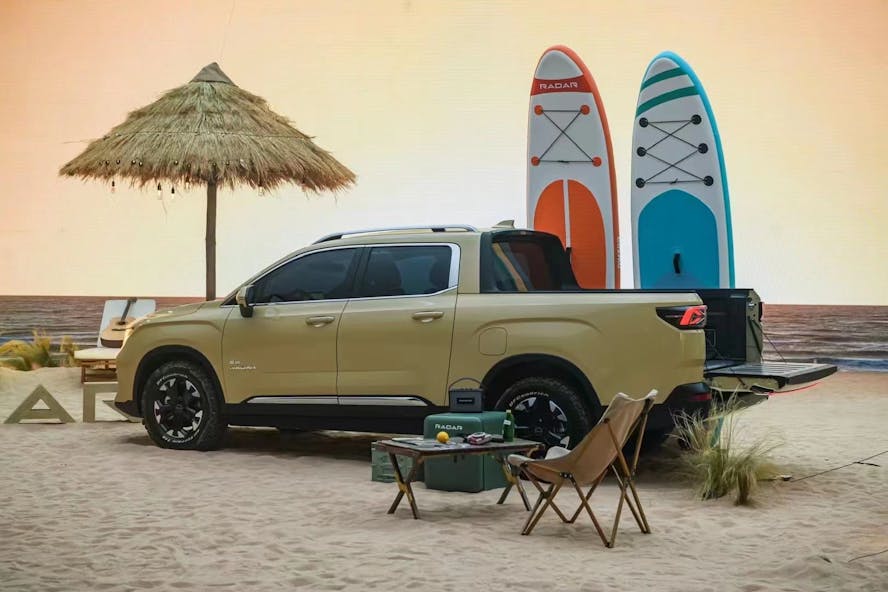 Renault Kangoo e-Tech (late 2022)
The Renault Kangoo e-Tech shares its underpinnings with the Nissan Townstar and Mercedes-Benz Citan, so you know what to expect. Power comes from a 44kWh battery that gives the Renault a range of nearly 200 miles, meaning intercity trips fall well within the Kangoo e-Tech's abilities. Performance is also strong for a van with the 121hp electric motor serving up all its power instantly. With a single gear, the e-Tech drives like an automatic and its regenerative brakes – which slow the van automatically when you take your foot off the accelerator – mean you rarely have to press the brake pedal. You can have the e-Tech with a choice of long and short-wheel-base models with a load capacity of 3.3 or 4.2 cubic meters, respectively. Order an E-Tech for delivery at the start of 2023. 
Volkswagen ID. Buzz Cargo (early 2023)
The Volkswagen ID. Buzz Cargo is arguably the coolest van to have been on sale since, well, ever. It shares its iconic looks and striking contrast paint jobs with the standard ID. Buzz, but in place of the back seats you'll find a 3.9 cubic meter load bay with a 752kg payload. Loading is easy thanks to the VW's flat floor and neatly recessed rear wheel wells, plus access is excellent because you get a large rear door and side door. The Cargo comes fitted with a 77kWh battery that gives it a decent range of 258 miles (WLTP figure) and is linked up to a fast charging architecture which means you can add a 10-80% charge in just 30 minutes using a fast charger. Here at DriveElectric, we think the ID. Buzz Cargo is first light commercial vehicle which will travel over 200 miles on a single charge under real world conditions. The ID. Buzz is simple to drive with a punchy 201hp electric motor and a single gear, which means it drives like an automatic. A stubby nose and tight turning circle help the Volkswagen be suprisingly manouverable. 
Our latest electric van leasing offers...
Medium Van
Range 155 miles
£3,569.30 Initial rental (ex. VAT)
48 Month term
5000 Annual mileage
Subject to status and conditions + arrangement fee
£396.

59
Business contract hire per month (ex. VAT)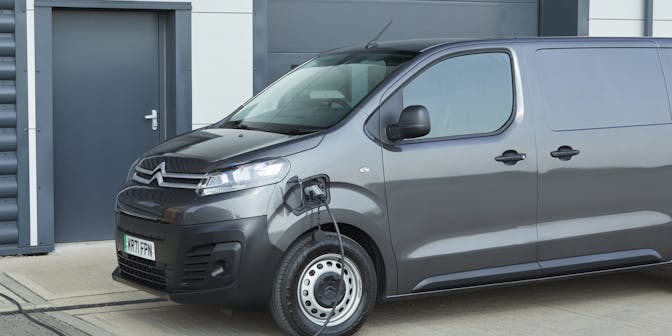 Medium Van
Range 155 miles
£3,463.39 Initial rental (ex. VAT)
48 Month term
5000 Annual mileage
Subject to status and conditions + arrangement fee
£384.

82
Business contract hire per month (ex. VAT)