Polestar 2 Review
The Polestar 2 is an all-electric family hatchback clothed in a stylish 'fastback crossover' design, with premium quality, good performance, and a long driving range.
Stylish 'fastback crossover' design

Long 335-mile driving range

Front-wheel drive model offers good performance

Even more performance with the dual motor, all-wheel drive model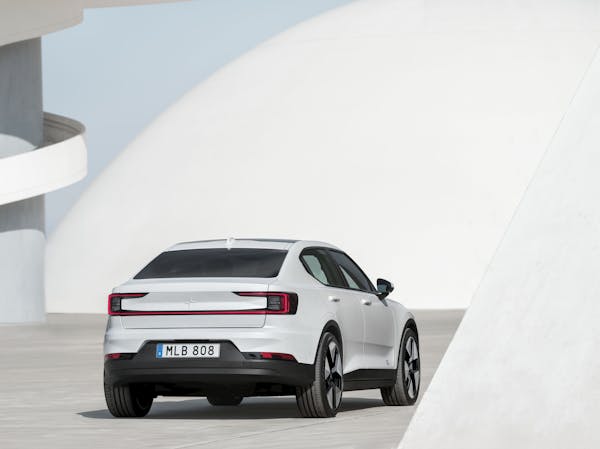 Polestar 2 Design & Powertrain
The Polestar 2 is a five-seat, five-door family hatchback with a slightly raised crossover body and added performance and a more premium feel than your typical family hatch. Polestar has close links to Volvo, and this is evident on the outside, and inside, where there's a minimalistic dashboard dominated by the central touchscreen.
The boot offers 405 litres of space, which includes a 41-litre compartment under the boot floor. There's also a compartment under the bonnet, which offers 35 litres of space, and is ideal for storing the charging cables.
The Polestar 2 Long Range Single Motor model has a 78 kWh battery and an electric motor on the front axle giving front-wheel drive and delivering 231hp of power and 330 Nm of torque. There's also a model with two electric motors, delivering all-wheel drive.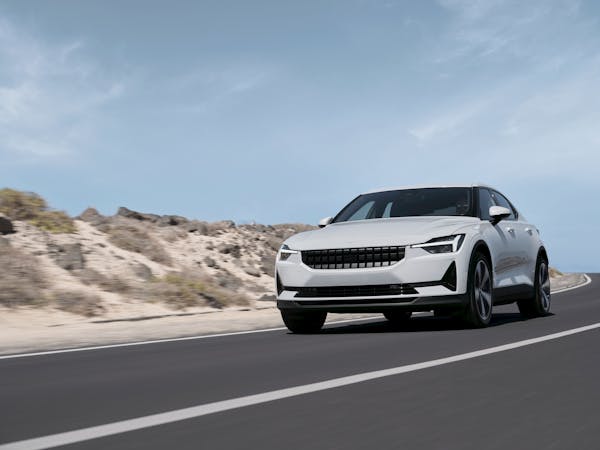 What's the Polestar 2 like to drive?
As well as having close links to Volvo in terms of design and engineering, the Polestar 2 Long Range Single Motor also has many similarities to a Tesla Model 3.
Like the Tesla, there's no start/stop switch in the Polestar, and most car controls are found in the touchscreen. This includes controls for the level of regenerative braking, and steering weight. Although there are no conventional drive modes, there is a button in the screen for 'Sport' mode, which reduces the amount of intervention from the traction control system.
The traction control system actually does a decent job. EVs with front-wheel drive and 231 ps of power and 330 Nm of torque can be susceptible to wheelspin and torque steer, but this is generally kept under good control in the Polestar 2. Of course the all-wheel drive model offers more grip, especially in poor weather.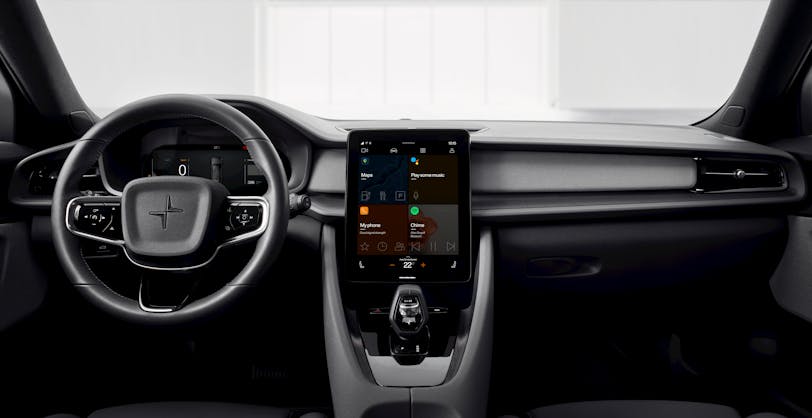 Acceleration is strong once on the move, although responses feel muted at very low speeds. The handling benefits from a relatively low centre of gravity compared to an SUV, but the Polestar 2 feels heavy (it does weigh two tonnes). Watch out for the ride quality - and road noise - being adversely affected by specifying large 20-inch alloy wheels.
The Polestar 2's infotainment system includes Google Play, Google Maps and Google Assistant all integrated directly with the car.
Note that the car's cockpit features a wide centre console which intrudes into the driver's legroom.
The Polestar 2 Long Range Single Motor has a WLTP combined range of 335 miles. This is likely to be around 270 miles in real-world driving.
It can charge at up to 150 kW DC, when a 10 to 80% charge should take around 35 minutes. Alternatively if charging at home or at the workplace it can charge at up to 11kW AC, when a full charge could take 8 hours.
The Polestar 2 Long Range Single Motor offers stylish design, a premium feel, long range, good performance, and decent practicality. This variant will probably be sufficient for most people's needs, but if you need more grip in all weathers, as well as extra performance, then you can always opt for the Dual Motor all-wheel drive model.
Choose your Polestar 2 car lease