Mercedes Benz business leasing
Mercedes Benz buinsess leasing
Mercedes has been a serious player in the electric car market in recent years. While the German manufacturer first trialled electric cars in the 70s, it was in 2016 that models from the current fleet of electric vehicles first hit the market.
At DriveElectric, we've been focusing on EVs since 2008 and continue to help many businesses across the country make the move to environmentally friendly vehicles for their fleets. And we can help you today with our range of Mercedes business lease deals. When you take a Mercedes business lease out with us, you'll take your first steps to moving towards a greener, cleaner future. Now is the time to change the way you run your fleet.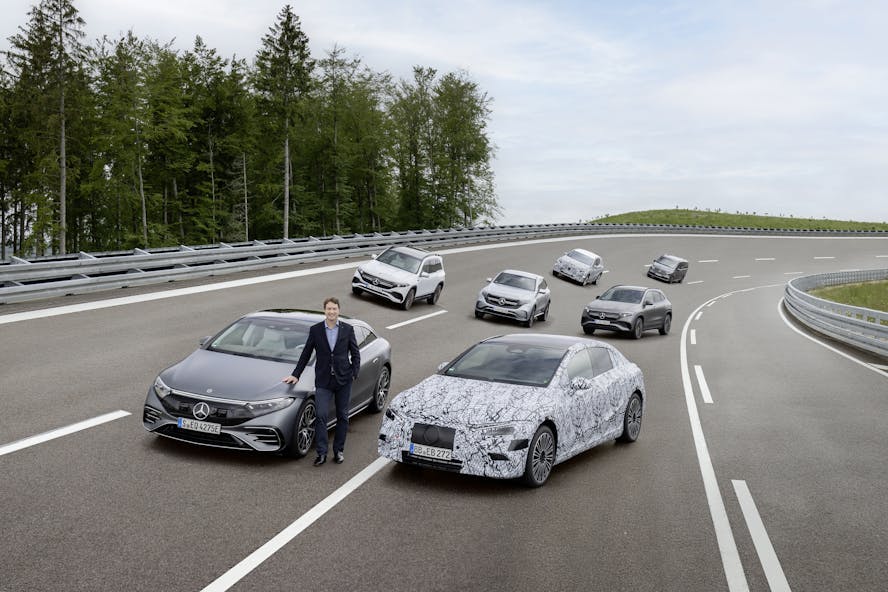 Mercedes business leasing
Looking to lease one or more electric vehicles for your business? Mercedes has a great range of fully-electric models that will tick the boxes for your company. The German manufacturer gave the world its first production automobile and that innovation carries over into its electric range too.
So why should you choose a Mercedes EV for your business? Not only will you be leasing cars that you know are fantastic quality and offer an enjoyable drive – they are made by Mercedes Benz after all – but you'll also be reducing your business's carbon footprint and enhancing the reputation of your organisation by going green.
The cost will also be a consideration too, and there are plenty of savings to be made. EVs are much cheaper to run than petrol and diesel vehicles. A reduction in fuel cost is a clear benefit, but service and maintenance costs will also be around 30% cheaper. This is down to the mechanics of an electric engine compared to a combustion engine.
You can also save on National Insurance and benefit in kind (BIK) tax too. If you were to opt for a Mercedes Benz electric vehicle, you would only pay 2% company car tax in 2022/23. This is compared to 14% for plug-in hybrids, 28% for petrol cars that produce CO2 emissions of over 119g/km and 32% for diesels above 116g/km. You could also save over £5,000 on ULEZ and congestion charges if your business is based in London.
But will Mercedes electric vehicles offer enough range to cater for the day-to-day needs of your employees? The notion of EVs not having sufficient range is a thing of the past these days, with the Mercedes EQA promising a WLTP range of around 264 miles and the EQV 255 miles.
Mercedes Benz business lease deals
When you've decided to lease an EV for your business, we help you every step of the way at DriveElectric. Whether you have your eye on a specific Mercedes Benz lease deal or you want some advice on which car will best suit your needs, we're here to help with any questions you may have about specific models or certain deals. We can also help you understand the tax implications of opting for a Mercedes electric vehicle business lease.
There is also no obligation to buy your car at the end of the contract – you can simply hand it back to us and take a new lease on the latest model of your choice. This means there's no concern about the residual value or finding the cash for a lump sum payment at the end of your lease.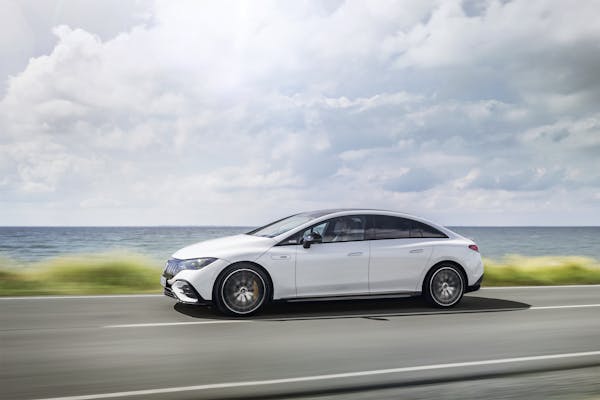 Mercedes EQE business lease
The EQE saloon is a great option for a business. It has a dynamic appearance, a luxurious interior and promises a range of around 300 miles. It also brings a balance of technical innovation and modern aesthetics, which is everything you come to expect from a Mercedes.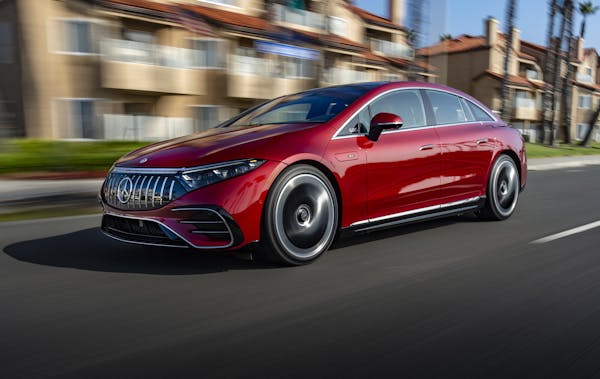 Mercedes EQS business lease
Again this luxury saloon offers everything you desire from a Mercedes, just with an all-electric engine. It is the standalone all-electric member of the S-Class range and also has a massive potential range of 453 miles.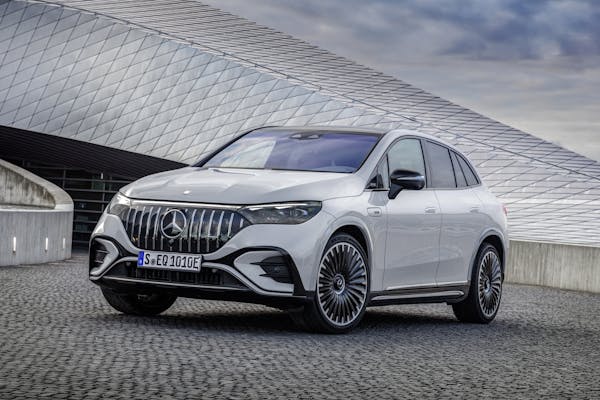 Mercedes EQS SUV business lease
This SUV version of the EQS has everything that the EQS has going for it, just combined with the strength and versatility of an SUV. It can also seat up to seven people.
Mercedes EQV business lease
The EQV is the first premium electric MPV from Mercedes. It has a range of 213 miles, a rapid charge time of 45 minutes and can seat up to seven people in comfort. It's a great choice for a Mercedes business lease.
Mercedes EQA business lease
The EQA is an all-electric hatchback from Mercedes with a range of around 260 miles, a rapid charge time of just 30 minutes, and zero local emissions.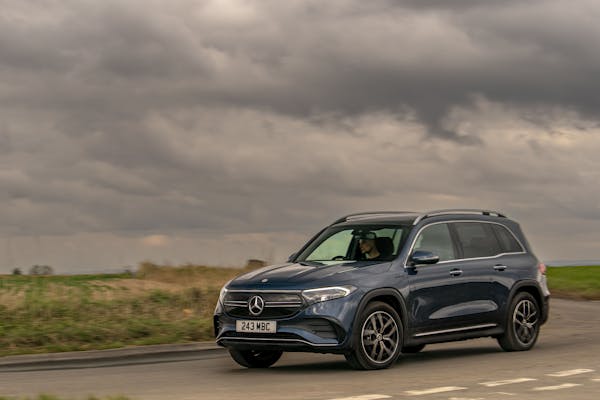 Mercedes EQB business lease
This seven-seater SUV promises space, safety and a high level of comfort. It looks good, drives well and is a great option if you need to carry multiple people in your fleet cars. You'll find a range of Mercedes EQB business leases from DriveElectric.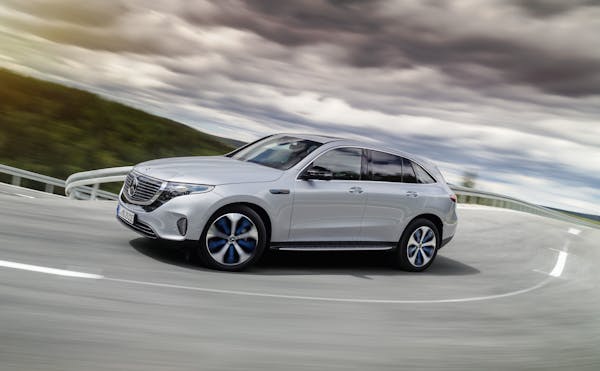 Mercedes EQC business lease
The Mercedes EQC is the German manufacturer's 100% electric 4x4. It has a range of up to 255 miles and a rapid charge time of 40 minutes, plus innovative driver assist systems.
Benefits of Mercedes business leasing
Straightforward and risk-free

All you need to do is choose the length of your Mercedes business lease along with your mileage and deposit and you'll be driving away in a Mercedes EV. At the end of the lease, simply hand back the car with no further obligation to pay anything.

Simple to budget

As well as road tax and a full manufacturer warranty, when you take out a Mercedes business lease you can also choose a service and maintenance package to help with budgeting.

Boost your reputation

By opting for a fleet of environmentally-friendly electric vehicles that produce zero tailpipe emissions, you'll immediately boost your reputation with current and prospective clients and customers.
Get in touch with us at DriveElectric today to discuss securing a Mercedes electric car business lease for your organisation. If you want to speak to one of our experts to understand our latest offers and how they could work for your business, simply give us a call. Or you can fill in a quick form to get an online quote today.