DS 3 E-TENSE Review
The DS 3 E-TENSE now has a larger 54 kWh battery, delivering a longer 250-mile range, making it a more practical proposition for many EV buyers.
DS 3 E-TENSE design & powertrain
DS Automobiles has given the 2023 DS 3 E-TENSE some minor styling updates, which have also resulted in small aerodynamic improvements, but overall the car's compact SUV body style remains essentially unchanged.
It's a similar story in the interior; the dashboard – complete with its diamond design theme for buttons and switches – appears a little different overall to the previous model. The 350-litre boot isn't huge but is fairly typical for a compact SUV.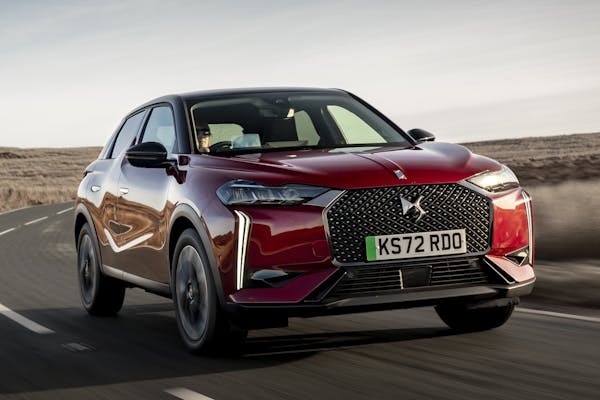 The main change is the larger battery – although there's not a huge leap in size. The previous DS 3 E-TENSE had a 50 kWh battery; there's now a 54 kWh battery (50.8 kWh usable size). Despite the modest increase in capacity, this results in a useful (WLTP) 250-mile range – 52 miles more than before.
There's also a new electric motor, with 115 kW (156 hp) of power and 260 Nm of torque.
The DS 3 E-TENSE may be classed as an SUV, but there's no all-wheel drive option – just front-wheel drive.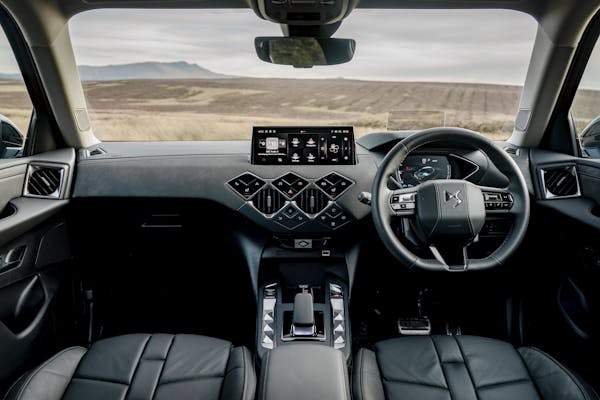 Driving Experience
The key headline is that the DS 3 E-TENSE is very comfortable to drive. It shares its platform with the Peugeot e-2008, but has a softer suspension and therefore more comfortable ride quality. Its handling reflects this 'comfort' focus, compared to the e-2008 which has a firmer ride and feels more sporty. However, due to the DS 3 being compact, there is some agility to the driving experience, although it weighs 1,625 kg – which is heavier than the petrol DS 3 model, but lighter than many EVs.
 Being an SUV, there's more ground clearance than a hatchback, which gives a slightly raised driving position. But the DS 3 is only front-wheel drive, so ultimately it will have less grip than an all-wheel drive SUV.
Performance is responsive, like all EVs, thanks to the instant torque, although the 0-62 mph acceleration time of 9.0 seconds isn't in the same supercar-chasing league as a Tesla.
The DS 3 has drive modes of Eco, Normal and Sport, and you can increase the level of brake regeneration by selecting the 'B' setting on the gear selector.
The DS 3 features a new 10.3-inch high-definition touchscreen with some helpful shortcut buttons under the screen for phone, nav, media, car and temperature. There's also a head-up display.
Charging the DS 3 E-TENSE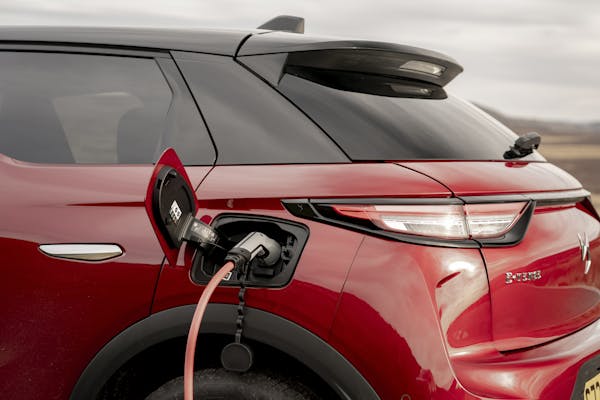 The DS 3 E-TENSE has an official WLTP range of 250 miles. You can expect a real-world range of around 210 miles. A heat pump aims to conserve range in cold weather.
A maximum rapid charging rate of 100 kW allows a 10% to 80% rapid charge in 30 minutes.
The DS 3 E-TENSE range starts at £37,200 for the DS 3 E-TENSE Performance Line. Performance Line+ trim costs £38,950, Rivoli trim is available from £39,200, and the top of the range Opera trim costs £41,700.
The DS 3 E-TENSE is a compact SUV, which is a segment that's very popular with car buyers. It's also all-electric (as opposed to the DS 7 E-TENSE, which is a plug-in hybrid), so as well as having zero tailpipe emissions, with a Benefit in Kind (BIK) company car tax liability for 2023/24 of just 2%, it's very attractive for company car drivers and for employees who can access a salary sacrifice scheme.
The main headline is that the DS 3 E-TENSE is a very comfortable car to drive, especially in terms of ride quality, but also in terms of the overall driving experience. If you're looking for a car in this class that has a slightly unique design style, and a premium feel, then the DS 3 E-TENSE is definitely worth a look.
Latest electric car lease offers...
£2,713.18 Initial rental (ex. VAT)
£3,255.81 Initial rental (inc. VAT)
48 Month term
5000 Annual mileage
Subject to status and conditions + arrangement fee
£301.

46
Business contract hire per month (ex. VAT)
£361.

76
Personal contract hire per month (inc. VAT)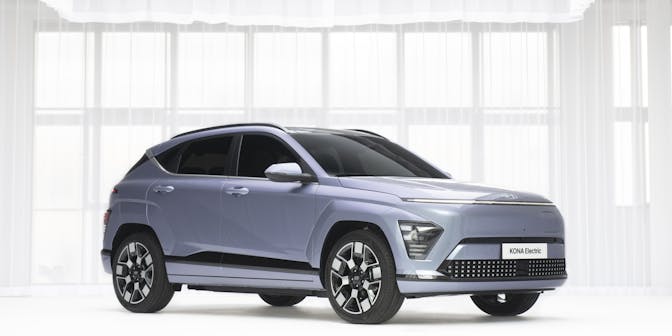 £1,951.79 Initial rental (ex. VAT)
£2,342.15 Initial rental (inc. VAT)
48 Month term
5000 Annual mileage
Subject to status and conditions + arrangement fee
£216.

87
Business contract hire per month (ex. VAT)
£260.

24
Personal contract hire per month (inc. VAT)
£2,728.44 Initial rental (ex. VAT)
£3,274.13 Initial rental (inc. VAT)
24 Month term
5000 Annual mileage
Subject to status and conditions + arrangement fee
£303.

16
Business contract hire per month (ex. VAT)
£363.

79
Personal contract hire per month (inc. VAT)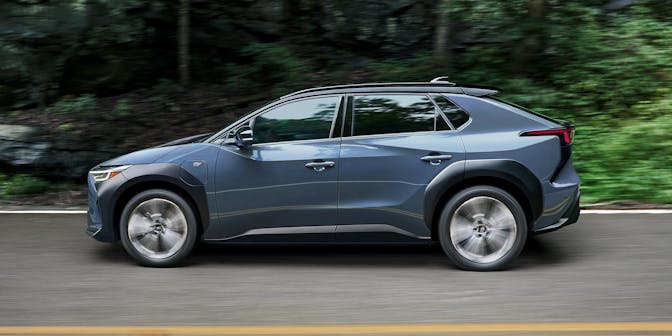 £3,626.28 Initial rental (ex. VAT)
£4,351.53 Initial rental (inc. VAT)
48 Month term
30000 Annual mileage
Offer expiry Monday, 18 December 2023
Subject to status and conditions + arrangement fee
£402.

92
Business contract hire per month (ex. VAT)
£483.

50
Personal contract hire per month (inc. VAT)
Special Offer
£3,983.14 Initial rental (ex. VAT)
£4,779.77 Initial rental (inc. VAT)
48 Month term
5000 Annual mileage
Offer expiry Monday, 18 December 2023
Subject to status and conditions + arrangement fee
£442.

57
Business contract hire per month (ex. VAT)
£531.

09
Personal contract hire per month (inc. VAT)
Special Offer
£4,141.37 Initial rental (ex. VAT)
£4,969.64 Initial rental (inc. VAT)
48 Month term
5000 Annual mileage
Offer expiry Monday, 18 December 2023
Subject to status and conditions + arrangement fee
£460.

15
Business contract hire per month (ex. VAT)
£552.

18
Personal contract hire per month (inc. VAT)
Special Offer
Choose your DS-3 Crossback car lease