Mercedes-Benz EQC review
The Mercedes-Benz EQC is a four-wheel drive, all-terrain luxury SUV which represents a giant step forward in the world of electric vehicles (EVs). One of the world's biggest and most historic car manufacturers has got serious about its commitment to a fully-electric future, which you can read more about in our Mercedes EQC review.
Mercedes-Benz EQC interior & practicality
The EQC boasts an exceptional build quality. This is instantly obvious both from the outside thanks to its elegant lines and when you climb inside the cabin using the handy sidestep. The beautiful Mercedes EQC interior has a high-quality finish which screams class and elegance, and stands in pretty stark contrast to the signature minimalism you get in a Tesla.
The car is a pleasure to drive, and you can look forward to a smooth, comfortable ride inside the cockpit. The EQC is packed with technology including driver aids such as lane, braking, distance and blind spot assist, as well as evasive steering and a pedestrian warning function.
There's a lot of tech to get your head around in this Mercedes-Benz, and you may need to spend a little more time getting to grips with it all compared to a Tesla. Once you do though, you can look forward to reaping the rewards both in terms of your driving experience and the performance of your car in terms of efficiency.
The Mercedes EQC is incredibly spacious. It's roomy in the front and back, while the boot capacity is a generous 500 litres. There's extra storage space under the boot tray too, for things like your charging cables, jack and other bits and bobs you keep in your car. Plus, it's just a push of a button to fold the rear seats down.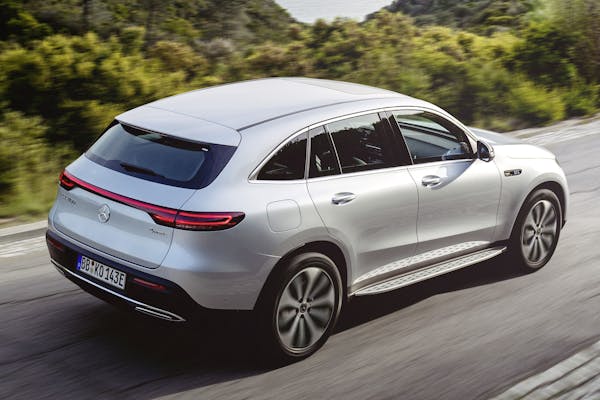 EQC range & performance
There's no doubt this is a big car, but it doesn't feel intimidating to drive. The handling is decent, but this isn't a car for throwing around quiet country lanes. It's no slouch at all in a straight line though, with a 0-62mph of 5.1 seconds more than enough to worry much smaller, sportier cars from a standing start.
With a limited top speed of 111mph, the EQC relies on two motors for its power, with a smaller, more economical one at the front. You'll mainly use the front-wheel drive when pootling around town, while the rear motor also kicks in when you need some extra oomph or 4WD capability. There's certainly plenty of power on hand, with the 300kW generated equivalent to a shade over 400bhp.
The EQC has an 80kWh battery, which comes with an eight-year, 100,000-mile warranty. The power unit gives you a WLTP range of 259 miles, while our 'real world' Mercedes EQC range is 230 miles.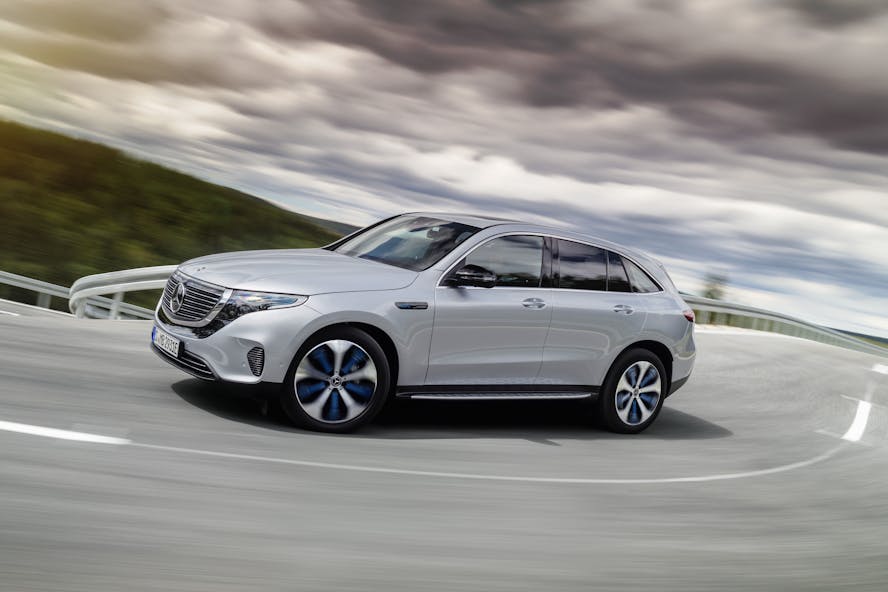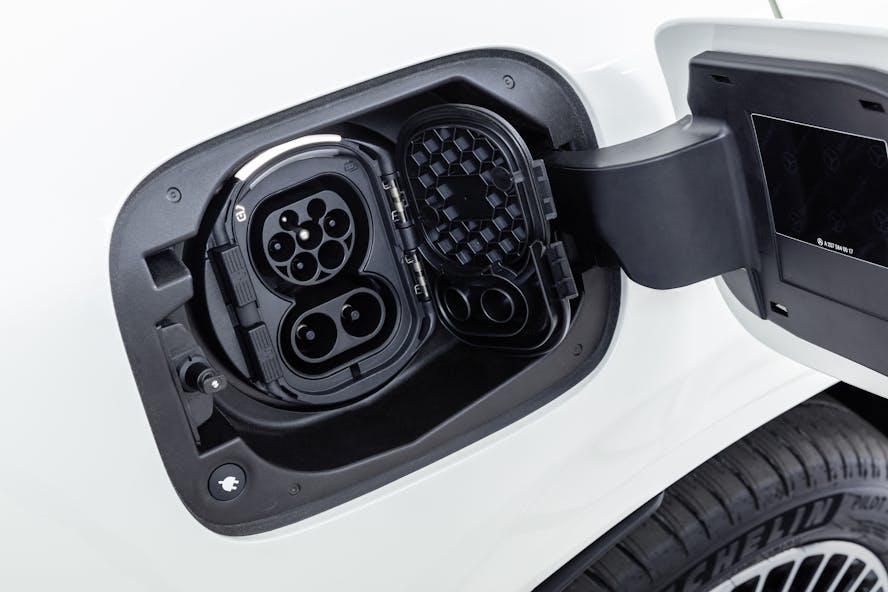 Mercedes-Benz EQC charging
This is an energy-efficient car for its size, with five different regeneration settings to tailor your driving experience to your needs. The 'Maximum Range' mode is best if you're looking to eke out your battery as much as possible, including by restricting your speed according to the speed limit on the road you're driving along.
The excellent performance of the regeneration technology filters down from the all-conquering Mercedes Formula 1 team, as well as the new Mercedes-Benz EQ Formula E team. The EQC is based primarily on the Mercedes GLC though, which means the bones of this car are from a very popular premium SUV.
However, many of the parts which make up this car have been built specifically for this model, with Mercedes claiming that only 15% of the EQC's components can be found in other models. That really makes a difference and will make you feel like you're driving a brand new model, rather than a copy of an existing car.
One familiar aspect though is the excellent MBUX system. The Mercedes-Benz User Experience is basically a twin-screen infotainment system which feeds you all the information you need about your car, including things like your speed, range and how hard your electric motors are working. You also get a smart sat nav, which uses augmented reality to project instructions onto a live feed of the road ahead.
The EQC is a very clever car in many respects. It is able to acclimatise its battery via a heating and water cooling system to the optimum temperature for charging, when it knows you're about to stop and plug in. This means your car's able to take the maximum amount of energy from the charger, allowing it to charge up at 110kW when using a public super charger.
Even the process of stopping to charge is a joy. The car can communicate directly with charge points, meaning there's no need for cards or apps. You can order your charge from inside the cockpit via Mercedes me Charge, while you can also access this app on your smartphone. The app allows you to use any public charger, and you simply pay through your Mercedes account.
This is a significant step forward, and makes Mercedes EQC charging much easier and quicker than most other models. It's also cheaper, as you don't have to pay monthly fees with a range of providers, in order to use different charge points. The car does the work for you while costing less, which is the future with EVs.
One of the very first premium large EV SUVs in the UK, the Mercedes-Benz EQC is very much still setting the benchmark for other brands to measure up to.
More electric car reviews
Choose your EQC car lease
£8,744.71 Initial rental (ex. VAT)
£10,493.65 Initial rental (inc. VAT)
48 Month term
5000 Annual mileage
Subject to status and conditions + arrangement fee
£971.

63
Business contract hire per month (ex. VAT)
£1,165.

96
Personal contract hire per month (inc. VAT)
£9,014.71 Initial rental (ex. VAT)
£10,817.65 Initial rental (inc. VAT)
48 Month term
5000 Annual mileage
Subject to status and conditions + arrangement fee
£1,001.

63
Business contract hire per month (ex. VAT)
£1,201.

96
Personal contract hire per month (inc. VAT)