Guide to choosing the right EVs for your company fleet
It's now crystal clear that electric vehicles (EVs) are the future of motoring. In turn, that means that they're the future for business transport too. Whether your company needs to move people or products, there's never been a better time to go electric with your fleet.
Just a few years ago the choice of electric cars in the UK wasn't huge but that's all changed. There's now healthy choice and competition in almost all car types, whether that's a compact hatchback, spacious SUV, or luxury saloon. There's an EV for your employees.
What is the best electric car?
The best electric car for you and your company will mainly come down to factors like cost and vehicle range.
Don't forget about style though, with prestige vehicles sometimes important for the image they project. If looks and performance are key to your business then something like the Polestar 2 could be the EV for you.
Luckily, the choice of high quality electric cars has never been better - whether that's a Volkswagen, Ford, Audi or BMW. There's a huge amount of choice out there.
Fleets that need to zip around city centres and fit into tight parking spaces could find Mini Electric or Smart forfour EQ ticks the box.
Or you may discover the Tesla Model Y Long Range is the perfect companion for long motorway trips between meetings and sales pitches. Especially with driving aids which provide an additional safety net after a long day on the road.
How far can an electric car go?
Our experience tells us charging and vehicle range are the biggest concerns for fleet managers we've spoken to.
Happily, modern EVs are getting better all the time as charging and battery technologies develop. Typically, they now offer a range of 140-350 miles per charge. Whether your fleet cars usually travel less than 100 miles per week or a few hundred miles every day, there's something to suit your needs.
This gives you the capacity to make every meeting secure in the knowledge you've got enough juice in your battery to get you from A to B and back again.
Which electric car has the longest range?
Tesla has been at the forefront of the market for several years now. Part of their huge appeal is the driving range their cars offer. The suitability named Tesla Model S Long Range is capable of covering around 325 miles of 'real world' driving on a single charge. They are no longer alone though, with both BMW and Mercedes-Benz both offering electric cars with significant 'real world' ranges, including the stunning BMW iX SUV and Mercedes-Benz EQS saloon.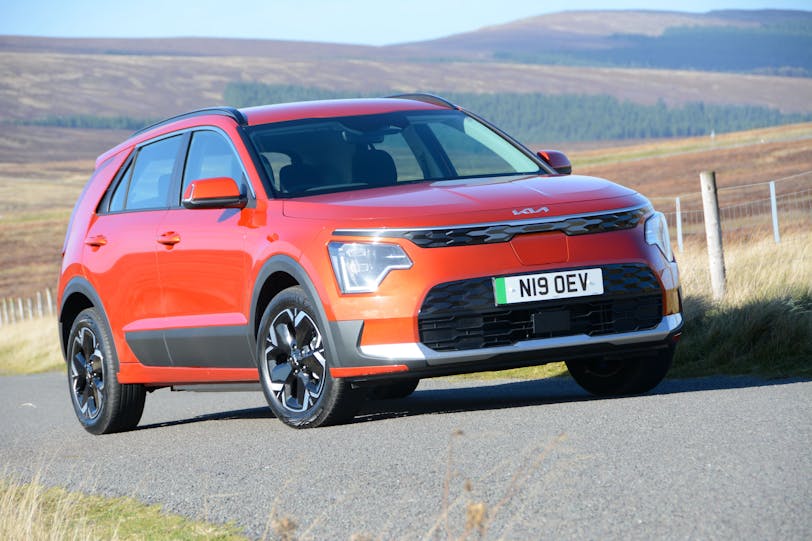 There are plenty of cars now offering an attainable range of around 250 miles, which used to be reserved for the Tesla Model S and Model X. This includes SUVs like the Kia Niro EV and Hyundai Kona. A range of 250 miles is more than enough for most fleet cars to fulfil their daily duties without the need to charge up away from home or work.
In our experience, how far a vehicle needs to travel is usually overestimated - often significantly. Most vehicles and trips travel far less than 100 miles per day.
How fast can you charge an electric car?
Charging speed is something you need to think about if your fleet cars cover a lot of miles in a day.
>> Read our guide to charging.
When using public charging points, these now usually come in the guise of rapid and ultra-rapid units. They're designed to quickly add charge into the vehicle's battery so the driver can be on the road again. Rapid and ultra-rapid chargers operate between 50kW and 350kW, much much more powerful than using a destination (i.e at a workplace or at home) charger, and can add significant amounts of vehicle range in minutes.
However, different EV models have different limits to how quickly they can accept a charge. - on our website we call this Max. charge speed. So this might be the limiting factor in how quickly the EV charges at a public charge point.
When considering home and workplace charging, these normally operate at around 7kW. Perfect for when the vehicle is sat at home or overnight in a work depot.
In our experience, the most common, practical, cheapest and most environmentally friendly is to prioritise EV charging when they're not being used, i.e. overnight, when the vehicle might be plugged in for around 10 hours. Giving more than enough time to add as much charge as is needed for the following day.
How much does it cost to charge an electric car?
While the reputational benefits of running an electric fleet are increasingly important, a key consideration is how it's going to affect your bottom line. And this is where the good news comes thick and fast. The biggest saving you're likely to make compared to a petrol or diesel vehicle is on fuel.
It's easy to work out the cost of a full charge; multiply the cost of the energy going into the car by its battery size:

And although the cost of electricity has increased, 'refuelling' an EV is still significantly cheaper than a petrol or diesel vehicle. Particularly if the EV is charged overnight; using a domestic EV specific tariff or a workplace electricity tariff.
There are still domestic tariffs which can be used for overnight charging at 7.5p per kWh, which means a 50kWh electric vehicle can be fully charged (from 0% to 100%) for only £3.75.
Do you really save money with an electric car?
It's clear that a fully electric fleet will save you huge amounts of money on fuel. A Tesla Model 3, for example, could save you almost £2,000 a year when covering 20,000 miles. The more cars you have and the more miles you cover, the more you save. You don't have to worry about high mileages costing more in maintenance costs, as EVs have fewer moving parts they are typically 30% cheaper than their internal combustion engine (ICE) alternatives to maintain.
Then there's the savings drivers can make on company car tax. During the 2022/23 financial year, benefit-in-kind on EVs stands at 2%, significantly lower than petrol, diesel and hybrid vehicles. BIK rates will stay low for at least the next 6 years - 5% until the end of 27/28 financial year.
The benefits get even better if you're in London. Fully electric vehicles are exempt from the capital's Congestion and Ultra Low Emission Zone charges. This saves you more than £5,000, compared to a Euro 5 diesel entering Central London daily over 45 weeks.
According to energy efficiency experts Sust-it, it only costs around 3.5p per mile to run a Volkswagen eGolf. This is compared to 9p per mile for its diesel equivalent, and 11p per mile for the petrol. You'll save £275 per year if you only cover 5,000 miles per annum, while it's £1,100 if you cover 20,000 miles.
Should my company have electric fleet cars?
The cost savings of a fully electric fleet are clear. There's currently even a government incentive called the Workplace Charging Scheme, where you can claim £500 on up to 20 charge points. That's a saving of £10,000 if you take up the whole quota.
As well as enhancing your company's image, you can also improve your employees' daily lives behind the wheel, as they strive to maximise profits for your bottom line. EVs are more pleasant to drive (they're quiet and all automatic!) and with great benefits for the environment, you can help your local community work towards cleaner air while potentially improving your employee retention.
Electric cars are the present as well as the future, so give us a call today and let us help you work out how you can make some positive changes to your fleet.
DriveElectric can help your organisation in its journey to net zero
Our electric car lease special offers...